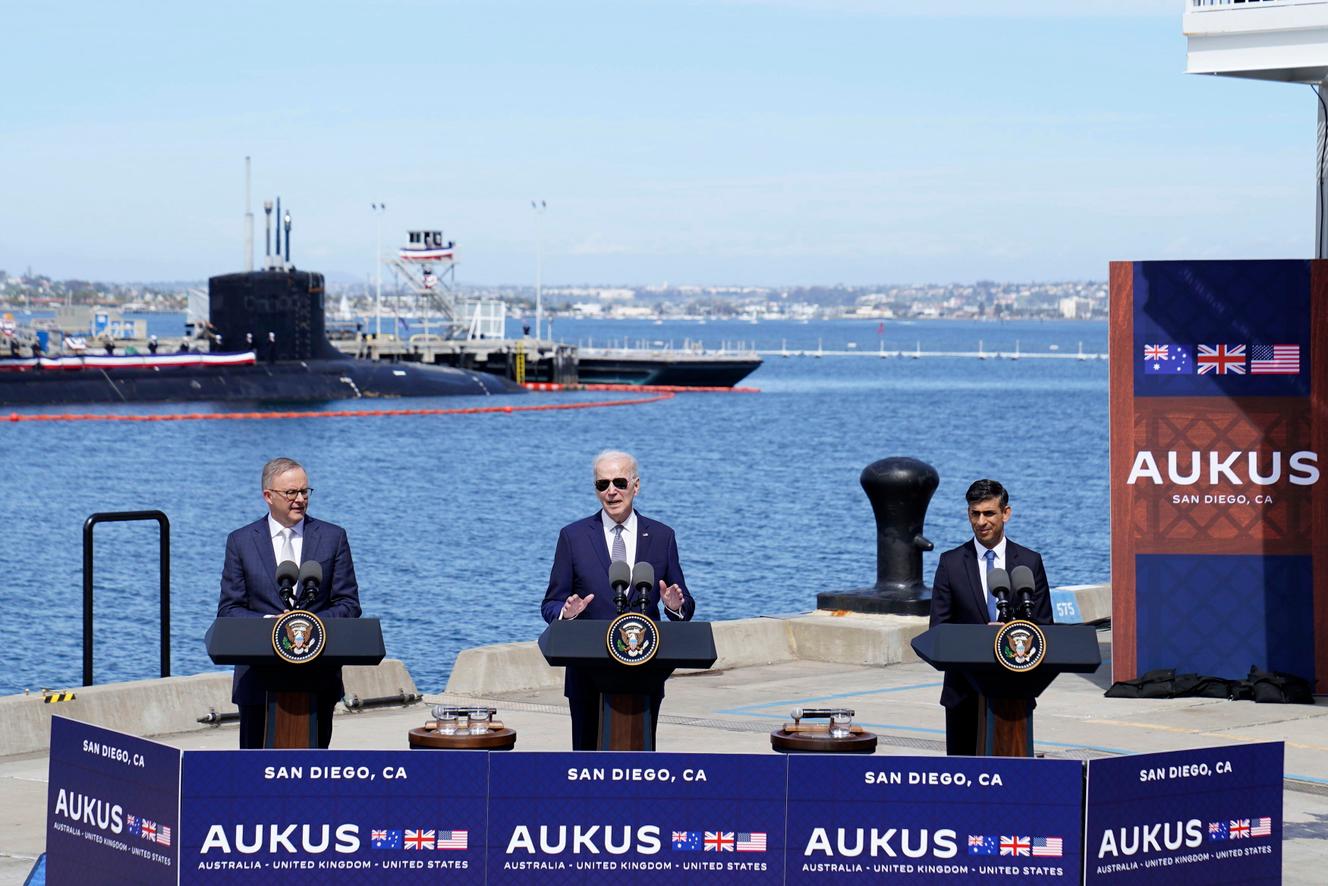 The huge industrial effort and unprecedented partnership reflects the three nations' shared concern over China. Eighteen months after the formation of the Aukus alliance between the US, UK and Australia, their heads of state met in a summit on Monday, March 13 at the Point Loma naval base in San Diego, California. US President Joe Biden, Australian Prime Minister Anthony Albanese and British prime minister Rishi Sunak announced the various phases of their agreement to develop nuclear-powered and conventionally-armed submarines, which will link their countries over the long term. It was "a historic day," Biden said.
Specifically, the three countries will partner to build a new generation of attack submersibles, called SSN-AUKUS. Starting this year, Australian personnel will begin on US and British vessels for training and the subs will undertake more frequent maneuvers in Australian waters.
Starting in the early 2030s, pending Congressional approval, the US plans to transfer three used Virginia-class submarines to Australia, "with the possibility of selling two more if necessary," according to the joint statement. The initial industrial challenge will be formidable, as Washington will invest $2.4 billion (about €2.2 billion) in its dedicated manufacturing sites and $2.2 billion into the maintenance of the Virginia submersibles between 2023 and 2027. In the second phase, Canberra will receive new SSN -AUKUS submarines, based on a British design but with American technology onboard that Washington has so far only shared with London.
Read more
Article reserved for our subscribers

Australia's future Aukus submarines to be British-made
Under the formal agreement, the UK will build and deliver the first vessel to Canberra by the end of the 2030s. It will not be until the early 2040s, 20 years from now, that Australia will have the first submarine built entirely on its soil. "Our plan elevates all three nations' industrial capacity to produce and sustain interoperable nuclear-powered submarines for decades to come, expands our individual and collective undersea presence in the Indo-Pacific, and contributes to global security and stability," the statement said.
Three 'maritime democracies' facing China
We are interested in your experience using the site.
They are impressive aims, but to realize them will take decades and raises questions about the industrial, military and financial capacity of the three countries to meet the challenge. The press release doesn't clearly state joint costing and a breakdown of the commitments by each party.
Behind the readiness on display, there is significant risk. For Australia, both the total cost – estimated by Canberra to be up to €228 billion – and delivery time will be much greater than if it had acquired 12 diesel-powered submarines from France's Naval Group, a possibility that was scrapped and replaced by Aukus .
You have 65.68% of this article left to read. The rest is for subscribers only.