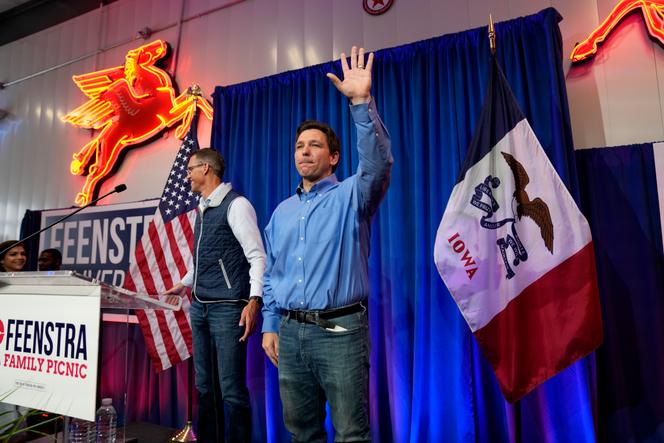 Florida governor Ron DeSantis is seeking to weaken former president Donald Trump's grip on the Republican Party as he courts voters in battleground Iowa. Both prospects for the GOP presidential nomination were to hold events in the state Saturday, but a tornado warning prompted Trump to cancel his.
DeSantis, who is expected to announce his 2024 presidential campaign any day, briefly flipped burgers and pork chops at a picnic fundraiser in Sioux Center, drawing hundreds of conservatives. At the podium, DeSantis highlighted his willingness to embrace conservative cultural fights and sprinkled his remarks with indirect jabs at Trump. ″Governing is not about entertaining. Governing is not about building a brand or talking about social media and virtue signaling,″ said DeSantis, who wore a blue button-down shirt without a tie or jacket. ″It's ultimately about winning and producing results.″ ″We must reject the culture of losing that has impacted our party in recent years. The time for excuses is over,″ he added. ″If we get distracted, if we focus the election on the past or on other side issues, then I think the Democrats are going to beat us again.″ After his speech, the Florida governor moved swiftly through the crowd, making small talk with voters trailed by reporters, TV cameras, and his security detail. Supporters Lyle and Sonia Remmerde of Rock Valley (Illinois) managed a handshake. ″One of the things when you compare Trump and DeSantis, I think DeSantis has — how do you say? — a much more smooth approach,″ said Lyle Remmerde, 65. ″He's less abrasive.″
Read more
Article reserved for our subscribers

Ron DeSantis scores victory in culture war over Disneyworld controversy
Trump's event scheduled at a later date
Trump, a candidate since November 2022, had hoped to demonstrate his political strength with a large outdoor rally in Des Moines, the capital, later in the day, but the event was canceled due to a tornado warning. Trump's team had expected more than 5,000 to attend the rally at an outdoor amphitheater in downtown Des Moines for the purpose of collecting information on would-be supporters and encouraging them to commit to Trump. Trump's 2024 Iowa campaign, unlike his rag-tag 2016 second-place Iowa effort, is putting together a more disciplined, data-driven operation. The Saturday event was aimed at encouraging attendees to sign up with the campaign on a website so the campaign could maintain contact with them, keep them posted on how and where to caucus and recruit campaign volunteers. In a social media post, Trump promised to reschedule the event.
Voters in the state are sizing up DeSantis and Trump, two Republican powerhouses who are among a half dozen GOP candidates already in the race or expected to announce imminently. If Trump is well ahead of his rivals in early national polls, DeSantis is viewed widely as his strongest potential challenger.
Read more
Article reserved for our subscribers

US presidential election: Republican Nikki Haley becomes first to take on Donald Trump
Blatant DeSantis bashing
For Trump, the emerging rivalry with DeSantis has turned increasingly personal. So far, DeSantis had largely ignored Trump's jabs, which have included suggesting impropriety with young girls as a teacher decades ago, questioning his sexuality, and calling him ″Ron DeSanctimonious.″ Trump's campaign began airing an ad mocking DeSantis for yoking himself to the former president in 2018 when he ran for governor, even using some Trump catchphrases as a nod to his supporters in Florida.
Trump's super PAC, MAGA Inc., also has aired spots highlighting DeSantis' votes to cut Social Security and Medicare and raise the retirement age. The group even targeted DeSantis' snacking habits, running an ad that called for him to keep his ″pudding fingers″ off those benefits. That was a reference to a report in The Daily Beast that the governor ate chocolate pudding with his fingers instead of a spoon on a plane several years ago. DeSantis declared he does not remember doing that.
The pro-DeSantis super PAC, Never Back Down, has hired Iowa staff and begun trying to organize support for the governor before a 2024 announcement. The group announced on Thursday that state Senate president Amy Sinclair and state House majority leader Matt Windschitl would endorse DeSantis' candidacy. On Friday, it rolled out roughly three dozen more state lawmakers who would endorse him.