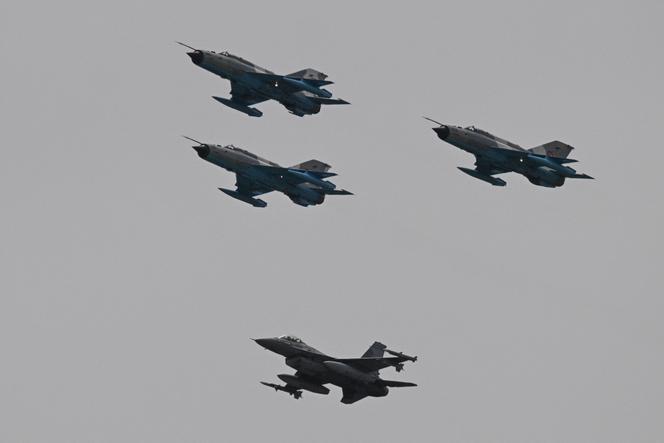 The decision has yet to be made but it seems to be taking shape. The delivery of the fighters that Ukraine has been demanding for months from its Western allies has never been so close. On Tuesday, May 16, the United Kingdom promised to work towards the constitution of an "international coalition" to help Kyiv obtain them, the Netherlands openly proposed to supply them, and France spoke of training pilots. Volodymyr Zelensky has every reason to be optimistic. "I see that in the closest time you will hear some, I think, very important decisions, but we have to work a little bit more on it," said the Ukrainian president on Monday, during his visit to London. The US still needs to be convinced, as its approval will be necessary for the delivery of F-16 fighter-bombers, the American-made aircraft that Ukraine is specifically asking for, in particular because of its availability.
It is by far the most widely used aircraft in the world. Some 4,500 units have been manufactured, of which about 2,300 are in service, representing 16% of the world's combat fleet, and 25 countries use them. In addition to its high availability, it is extremely versatile. Designed primarily for air combat, it can also be used as a tactical bomber, ground attack aircraft, electronic warfare aircraft and for airspace defense. Without being a panacea, it is effective in all those areas. Ukraine has every reason to prefer it to the French-made Mirage and Rafale, just as it preferred the German-made Leopard tank to the French Leclerc.
Joe Biden, whose approval would be a prerequisite, told G7 leaders that Washington will support training Ukrainian pilots on these fighter jets, a senior White House official said on May 19. The American president had ruled out supplying F-16s on January 30, judging that it would be wise to continue to deliver ground defense systems whose effectiveness no longer need to be proven. Except at the beginning of the conflict, these weapons have so far dissuaded the Russian air force, which is clearly superior in terms of both numbers and technology, from venturing beyond the front line. Instead of the notion of control of the sky, the Ukrainians preferred the notion of "denial of access to air space."
Read more
Article reserved for our subscribers

France paves way to training of Ukrainian pilots
Favoring the status quo
As long as this strategy works, there is no need to change it, according to Washington. "Any attempt by Ukraine to gain air superiority could be a costly mistake," writes military expert and former US Air Force pilot Maximilian Bremer, in an article published on the Defense News website. "Instead, Ukraine needs to hold fast to its successful air-denial strategy, and the international coalition supporting it needs to continue to supply Ukraine with air defense systems and ammunition."
You have 65.76% of this article left to read. The rest is for subscribers only.