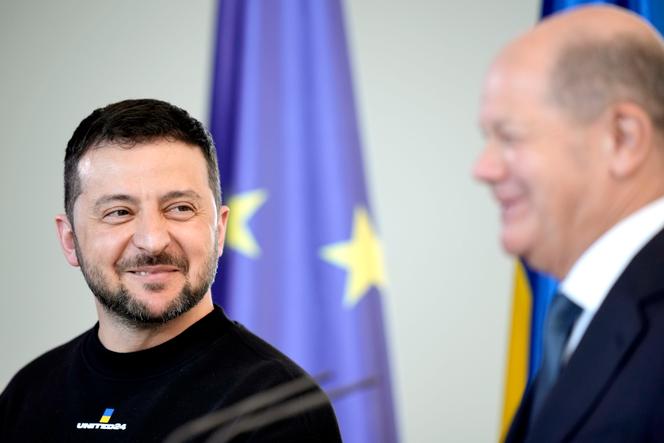 Ukraine's President Volodymyr Zelensky on Sunday, May 14, called Germany a "true friend" in his country's battle against Russia, as Berlin pledged unwavering support for Kyiv ahead of a widely expected counter-offensive. Berlin unveiled a new military package worth €2.7 billion, its biggest yet for Ukraine.
The Ukrainian president, on his first visit to Germany since Russia's invasion, traveled to Berlin for talks with Chancellor Olaf Scholz and President Frank-Walter Steinmeier after meeting Italian leaders and Pope Francis in Rome.
His next destination later Sunday will be France, another European heavyweight, where meetings are expected with President Emmanuel Macron in Paris, sources told Agence France-Presse (AFP). The French presidency neither confirmed nor denied the visit.
Zelensky had previously made a late evening stop-off in Paris in February, where he met French President Emmanuel Macron and German Chancellor Olaf Scholz. Zelensky's weekend diplomatic tour comes ahead of an EU summit in Reykjavik and a gathering of G7 leaders in Japan.
Read more
Article reserved for our subscribers

Ukraine stocks up on weapons to prepare for new counter-offensive
In Berlin, he thanked Chancellor Olaf Scholz for Germany's "powerful support" in the form of the armaments package, saying "everything in this security package will significantly strengthen our defense." "Now is the time for us to determine the end of this war this year. This year, we can make the aggressor's defeat irreversible," he said.
Along with Scholz, Zelensky then traveled to the western city of Aachen, where he was due to pick up the Charlemagne award for efforts to foster European unity at a ceremony also attended by European Commission President Ursula von der Leyen and Polish Prime Minister Mateusz Morawiecki. Anticipating Zelensky's arrival, several hundred Ukraine supporters holding blue balloons and wearing yellow-and-blue flags around their shoulders held a rally in Aachen.
'As long as necessary'
Ukrainian forces have been training troops and stockpiling Western-supplied munitions and hardware that analysts say will be key to reclaiming territory captured by Russia. Once accused of reticence in supplying military gear to Ukraine, Germany has since become the second-biggest contributor of tanks, rockets and anti-missile systems to the country, after the United States.
Read more
Article reserved for our subscribers

War in Ukraine: UK breaks taboo with first delivery of long-range missiles to Kyiv
Scholz on Sunday reiterated Berlin's firm backing, telling Zelensky directly: "We will support you for as long as it is necessary." Zelensky said he would urge Scholz to support Ukraine's bid for fighter jet deliveries, though he did not specify if he was seeking aircraft directly from Germany.
Partner service
Learn French with Gymglish
Thanks to a daily lesson, an original story and a personalized correction, in 15 minutes per day.
Try for free
Early on in the conflict, Kyiv had accused Germany of being too accommodating to Russian President Vladimir Putin, while Berlin's reliance on Russian energy had proved tricky. Kyiv had also snubbed a visit by German President Frank-Walter Steinmeier in the weeks following the invasion, which in turn delayed Scholz's first trip to the war-torn country. Both Steinmeier and Scholz have since visited Ukraine.
In a clear show of its backing for Kyiv, Berlin on Saturday said it would send Ukraine more firing units and launchers for the Iris-T anti-missile system, 30 additional Leopard 1 tanks, more than 100 armored combat vehicles and over 200 surveillance drones .
Read more
Article reserved for our subscribers

Western objections to supporting Ukraine are limited but growing
Mykhaylo Podolyak, an adviser to Zelensky, hailed the announcement, saying it indicated that Russia was "bound to lose and sit on the bench of historical shame."
'Inaction'
On the front line, Russia said Sunday that two of its military commanders had been killed in combat near the flashpoint town of Bakhmut. In a rare announcement of losses on the battlefield, the Russian Defense Ministry said in a statement that the commander of the 4th motorized rifle brigade, Vyacheslav Makarov, and Yevgeny Brovko, deputy commander of the Army Corps for military-political work, had been killed in fighting in eastern Ukraine.
The head of Russia's private Wagner mercenary group Yevgeny Prigozhin again accused the Russian army of inaction around Bakhmut. In a post published by his press service, Prigozhin slammed the "airborne forces" for not backing his men as claimed by the Defense Ministry. "I didn't see them (…) I don't know where they are and who they are helping," he charged.
Elsewhere, Moscow said Russian forces had struck Western arm depots and Ukrainian troops in the western city of Ternopil and the eastern town of Petropavlivka.
Read more
Article reserved for our subscribers

War in Ukraine: The endless battle for Bakhmut