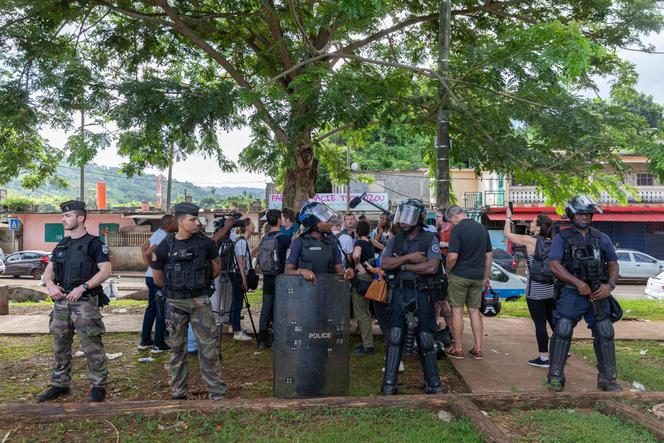 French riot police, according to its own report, did go lighthanded in its efforts to scare off what it said were "a hundred machete-wielding assailants," on Sunday 23 April. The CRS 8 unit, recently introduced as the spearhead of the new generation of riot police, used no less than 650 tear gas grenades, 85 sting-ball grenades, and 60 rubber bullet gun shots. The clashes, which lasted for part of the day, caused the injuries of 19 police officers, mainly from stones thrown at them.
The officers even opened fire 12 times with their automatic pistols, pointing "towards the ground and to scare away" the assailants, according to several witnesses. Such use of live ammunition is rare in the context of riot control or urban violence.
Read more
France refuses to halt migrant expulsions from Indian Ocean territory of Mayotte
These clashes offered a violent prelude to the vast Operation Wuambushu against crime and undocumented immigration on the island, planned by Interior Minister Gérald Darmanin. Dispatched to the archipelago on Tuesday, April 18, around 40 officials from the CRS 8 were attacked as soon as they arrived on the outskirts of the village of Tsoundzou, a little more than 150 kilometers south of Mamoudzou, the de facto capital of the archipelago , located on the island of Grande-Terre.
It is precisely in Tsoundzou that hundreds of Comorians, often undocumented immigrants have been gathering since the first eviction operations carried out in the slums of the region.
'Operation to reclaim the land'
For several months, security services have reported a significant increase in crime in Tsoundzou, including racketeering, theft and attacks on the police.
On Sunday, the day after a convoy of gendarmerie vehicles was stoned, police forces attempted to enter Tsoundzou, led by CRS 8 and the RAID tactical unit. On the spot, under a tropical downpour and in temperatures of nearly 40°C, stones were thrown at the police from the dense cover of vegetation, while about a hundred individuals, mostly young, set up barricades at the entrance to the village, set fire to pallets and tried to lure the police into the vegetation.
Read more
Mayotte: Four key dates to explain the migratory tensions on the French department
"We are on an operation to reconquer terrain," Jean-Louis Sanchet, the functional divisional commander in charge of CRS 8, told Agence France-Presse on Sunday. "[It's] a terrain they know and we don't."