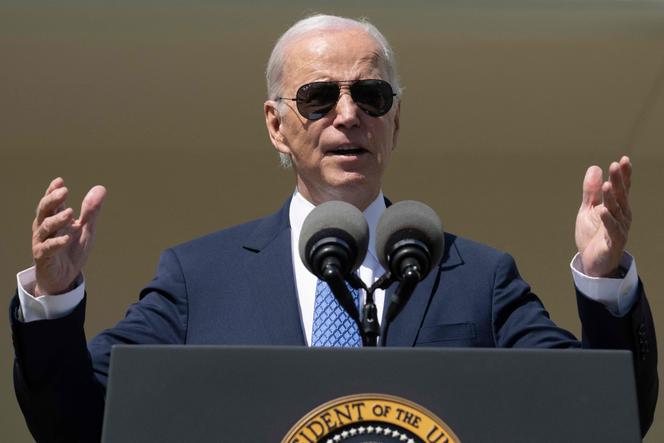 President Joe Biden announced on Tuesday, April 25, he is running for re-election in 2024, plunging at the record age of 80 into a ferocious new White House campaign "to finish the job."
"Every generation has a moment when they have had to stand up for democracy. To stand up for their fundamental freedoms," Biden wrote on Twitter, along with a video. "I believe this is ours. That's why I'm running for re-election as president of the United States. Join us. Let's finish the job."
After a series of big legislative wins and momentous foreign policy struggles in his first two years in office, Biden has no real challenger from within the Democratic Party. But in a campaign that may result in a rematch of the 2020 election against Donald Trump, he is expected to face constant and fierce scrutiny over his age.
The veteran Democrat would be 86 by the end of a second term. Even if a medical exam in February found him "fit" to execute the duties of the presidency, many including in his own voter base believe he is too old.
Biden likes to answer those concerns by saying, "watch me" – meaning that voters should focus on his policy wins at home and his marshaling of an unprecedented Western alliance to help Ukraine defend itself against Russia's invasion.
Over the next year and a half, Biden will have all the advantages of incumbency, backed by a united party, while Republicans are only just starting a messy primary season.
Trump, despite becoming the first former or serving president to be criminally indicted – and facing probes into his attempt to overturn his loss to Biden in the 2020 election – is the overwhelming Republican frontrunner.
On Monday, Trump was quick to pitch in his own criticism of the man who defeated him last time around. "With such a calamitous and failed presidency, it is almost inconceivable that Biden would even think of running for re-election," he said in a statement. The most likely Republican challenger to the 76-year-old Trump, Florida Governor Ron DeSantis, presents a similarly right-wing figure, though starkly younger at 44.
Read more
Article reserved for our subscribers

'Trump's indictment is good news for Biden'
'Rebuilding the middle class'
Biden will underline his foreign policy credentials on Tuesday when he meets with South Korean President Yoon Suk Yeol, who is starting a state visit to the White House.
Newsletter
THE WORLD IN FRENCH
Every morning, a selection of articles from The World In French straight to your inbox
Sign-up
Like in 2020, Biden's video message framed his election bid as a fight to save American democracy from Trump and increasingly far-right Republicans. However, he also stressed his message of restoring an economy with heavy focus on the manufacturing base and jobs for the middle class.
Later Tuesday he was scheduled to deliver an economic address to a union conference being held in Washington.
While not a campaign event, the scheduled theme – "how his investing in America agenda is bringing manufacturing back, rebuilding the middle class, and creating good-paying union jobs" – was set to be at the heart of the Democrat's 2024 message.
Read more
Article reserved for our subscribers

Biden's friendship with Israel continues to be tested
Bland but comforting?
Biden's approval ratings have not topped 50% for more than a year and a half. However, he has consistently over-delivered when it matters. Supporters say the Democratic Party's surprisingly strong performance in 2022 midterm congressional elections validated the Biden brand.
And while Biden may seem bland in comparison to Trump, he would bank on his moderate, old-fashioned image being the secret weapon needed in an increasingly extreme era.
"My dad had an expression," Biden often says. "'Joey, don't compare me to the Almighty. Compare me to the alternative.'"
Read more
Article reserved for our subscribers

'Joe Biden is reintroducing the role of government in US economic life'