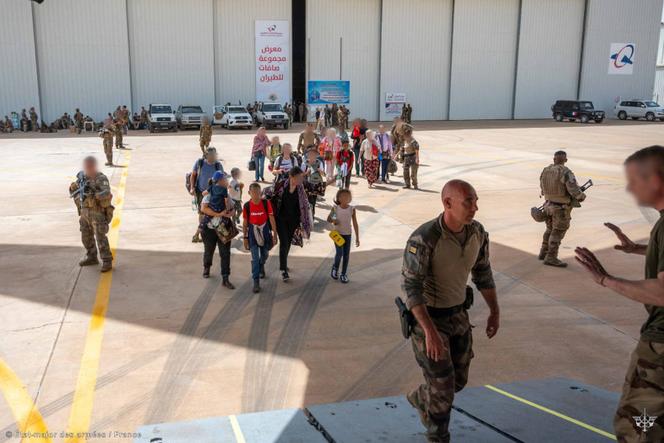 The images of rushed departures were as much a testament to the serious deterioration of the situation in Sudan as they were to the lack of hope for rapid improvement in the situation. Diplomats and foreign nationals who were able to leave Khartoum on Sunday, April 23, did so. They left behind them a Sudanese capital being ravaged by the war between rival generals, which had started eight days earlier. The generals had made a promise of a three-day truce on Friday, for the end of Ramadan, but this was only partially respected. General Abdel Fattah Al-Burhane, head of the army and the country, is locked in a battle with his deputy, General Mohammed Hamdan Daglo, known as "Hemedti."
Read more
Article reserved for our subscribers

Two rival generals plunge Sudan into deadly chaos
After meetings in Abu Dhabi between emissaries from both sides, appeals from around the world and insisting advice from Saudi diplomats and the South Sudanese presidency, the two rivals briefly paused fighting to allow the various evacuation plans to be implemented.
The French evacuation plan was codenamed "Operation Sagittarius." According to the embassy staff, about 150 soldiers were mobilized to evacuate French (as well as other) nationals from the Sudanese capital. On Sunday evening, two military planes had already landed nearly 200 people at the French base in Djibouti. One or two further flights were still planned for Monday and possibly Tuesday.
In order to make the operation secure, French President Emmanuel Macron and the Minister of Foreign Affairs Catherine Colonna had previously contacted Al-Burhan and Hemedti respectively. The deployment of the French military in Khartoum began on Saturday evening "in agreement" with the two parties and "in complete neutrality," the general staff said on Sunday. "The operation we are conducting is extremely complex and requires precise military and diplomatic coordination," said a source at the French foreign affairs ministry earlier.
A 'complex and rapid' military operation
In practice, the consular services of the French embassy in Khartoum had to tell people to wait at predefined points. The Sudanese capital, a huge city of more than 1,000 km2, is a battlefield, with the official army fighting the Rapid Support Forces (RSF), the powerful militia led by Hemedti. The problem is how to evacuate foreign nationals who say they want to leave, but who find themselves stuck at home because of the fighting, sometimes unable to communicate, due to the lack of a telephone network, or to move, due to the lack of fuel.
Read more
Article reserved for our subscribers

In the midst of the fighting, Sudanese citizens resist in solidarity
On Sunday, the evacuation did not go entirely smoothly. In the convoy of buses leading to an airport on the outskirts of Khartoum, a French passenger was injured, caught in the crossfire. He was evacuated to Djibouti on the first flight. The RSF was quick to seize on this incident, in an attempt to discredit the other side, while insisting that they, the RSF, had respected the truce. On Twitter, militiamen working for Hemedti denounced a "cowardly" attack "by planes (…) endangering the lives of French nationals, injuring one of them." Other members of the convoy they were escorting survived, the tweet read.
You have 62.37% of this article left to read. The rest is for subscribers only.