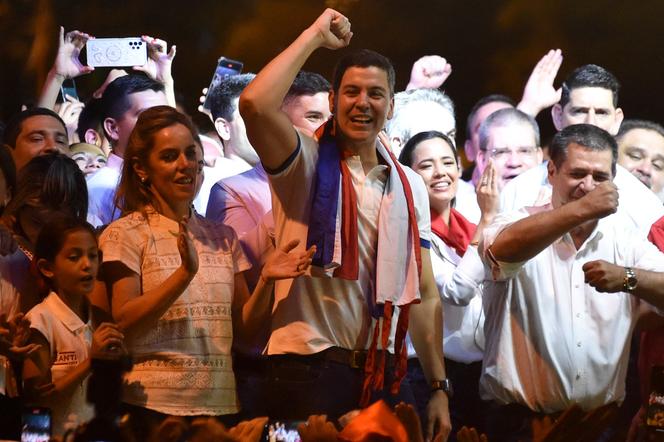 Paraguayans on Sunday, April 30, elected a president from the rightwing Colorado Party, in power for nearly eight decades, rejecting a center-left challenger who had railed against institutional corruption.
Economist and former finance minister Santiago Pena, 44, won the election with more than 42% of votes cast, results showed with 90% of ballots counted. His challenger, Efrain Alegre, 60, of the Concertacion center-left coalition garnered 27.5% despite having had a narrow lead in opinion polls ahead of Sunday's vote.
The Colorado Party has governed almost continually since 1947 – through a dictatorship and since the return of democracy in 1989, but has been tainted by corruption claims. Pena's political mentor, ex-president and Colorado Party leader Horacio Cartes, was recently sanctioned by the United States over graft.
Read more
Article reserved for our subscribers

Paraguay's presidential election puts the hegemony of the right to the test
Tall and athletic, Pena is widely described as a technocrat with a brilliant academic career, but little political experience. The former IMF economist and central bank board member entered politics under former president Horacio Cartes. His detractors describe Pena as Cartes' secretary.
'Back to Jerusalem'
Unlike Alegre, Pena has said he will preserve relations with Taiwan despite demands in the agricultural and livestock industries to open the diplomatic export market to China.
Read more
Honduras to establish diplomatic ties with China
However, he told AFP he would move Paraguay's embassy in Israel from Tel Aviv to Jerusalem. Paraguay had previously moved its embassy in 2018, under Maps, but reversed its decision within months, provoking anger from Israel which closed its own mission in Asuncion in retaliation. "Yes, I would go back to Jerusalem," Pena told AFP before Sunday's vote. Moving an embassy to Jerusalem is highly contentious. Israel claims all of Jerusalem as its capital while Palestinians view East Jerusalem as the capital of their future state.