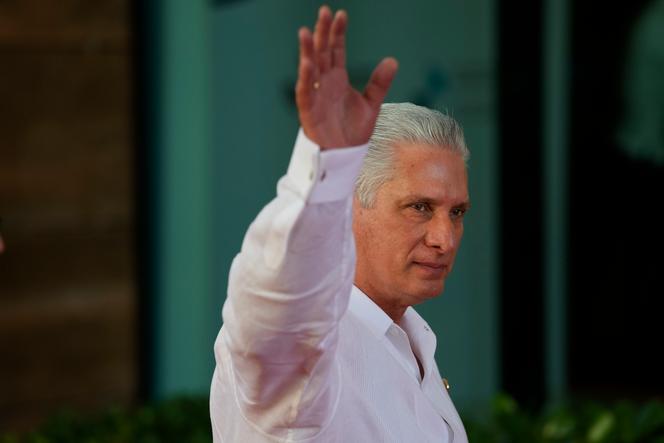 Cuba's President Miguel Diaz-Canel clinched a second five-year term Wednesday, April 19, in a parliamentary vote for which he was the sole candidate in a country where political opposition is illegal.
Diaz-Canel's bid was confirmed with 459 of the 462 legislators present in the Communist Party of Cuba-aligned National Assembly voting for his re-election, its president Esteban Lazo announced in the chamber. The National Assembly also voted to re-elect Lazo, 79, and Vice-President Ana Maria Mari Machado, 59.
Diaz-Canel's 459 votes amounted to 97.66 percent of the 470 members of the National Assembly, eight of whom were not present for the vote.
The 62-year-old took over the reins in 2018 as Cuba's first civilian leader after nearly 60 years of hegemony by the Castro brothers, vowing to "always defend the party" even as he set out in pursuit of cautious economic liberalization.
Read more
Cuba approves same-sex marriage in unusual referendum
His first five years in office were marked by the worst economic crisis in three decades and a widely criticized response to historic anti-government protests which triggered a tightening of US sanctions.
Diaz-Canel will be keen for another stab at reform, recently telling the pan-Arab television channel Al Mayadeen he was "dissatisfied" that his efforts at addressing Cuba's economic woes had not been "more efficient, more effective."
300,000 Cubans left the country in 2022
Under Diaz-Canel, an electronic engineer by training, Cuba sought to accelerate the opening of the economy to small businesses in hundreds of sectors previously under exclusive state control.
Two years ago, he initiated a monetary reform that ended artificial parity with the US dollar but fueled inflation and sharply devalued the local currency – another blow to an ailing economy hard hit by US sanctions in place since 1962 and a tourism dip brought on by the coronavirus pandemic.
Newsletter
THE WORLD IN FRENCH
Every morning, a selection of articles from The World In French straight to your inbox
Sign-up
Long-suffering Cubans face daily shortages of food, medicine and fuel, and since the arrival of mobile internet in 2018 have increasingly taken to social media to voice their dissatisfaction.
Read more
Article reserved for our subscribers

In Latin America, a 'new left' is coming to power
But in 2021, the largest protests since the 1959 Castro-led revolution was met with a harsh response that left one dead, dozens injured and more than 1,300 imprisoned, according to rights observers. Since then, Cuba has experienced an unprecedented exodus, with more than 300,000 of its nationals leaving for other shores in 2022 alone.