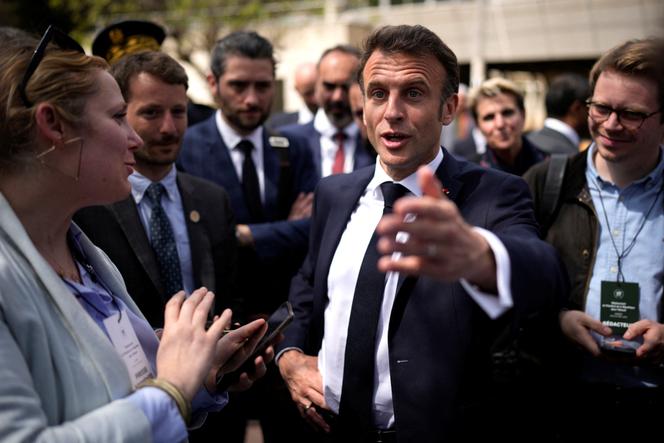 Standing alone and facing a hostile crowd: Emmanuel Macron was expecting nothing less. If the use of "portable sound devices" by the demonstrators were prohibited by prefectural decree, the head of state was once again greeted by the sounds of boos and saucepans banged on, on Thursday, April 20, during a visit to Ganges, in the Herault region. He had already been booed the previous day during a visit to Selestat (Bas-Rhin). "The other side of the coin," mused the head of state, greeting the mayor of the Southern town.
For his second outing from the Elysée Palace since his solemn address on Monday in which he pledged "one hundred days of reconciliation, unity, ambition, and action in the service of France," the president faces the anger of a France that does not forgive him for carrying out his campaign promise of shifting the legal retirement age from 62 to 64. "We're here to be loud, to make ourselves heard since it seems our president is deaf," explained a demonstrator to the newspaper Free lunch.
The Elysee Palace has imagined this cathartic ordeal as one of the keys to ending the crisis. Since the fury is aimed at the head of state, he is being offered up to the wrath of the crowd. It is necessary to clear the air and prove to the French their president is not afraid of the crowd. One year after his re-election, nothing would be worse than the image of a president confined to his palace, hamstrung.
Accused of being 'arrogant'
The clamor of pots and pans, the criticisms, the calls for his resignation "are not a surprise but they should not be an obstacle either," he commented from Selestat. "It is normal for this anger to be expressed. But it will not prevent me from expressing myself and continuing to act." While his inner circle is trembling, the incumbent president wants to prove he's brave. And respectful of his opponents. Would an arrogant person go and address those who despise him, showing pure contempt for his position? Public opinion will be his witness.
The fact remains that sometimes the words of the head of state work against him. "It is not the saucepans that will make France move forward," he said on Wednesday, joking about the unexpected benefits of the crisis. "We are reviving the saucepan industry on a massive scale," he laughed. When Sébastien Rome – La France Insoumise (LFI) MP for Hérault – gifted him twenty-four hours later a book on the history of the Cévennes region, commenting wryly about this "great place of resistance to the absolute monarch," Macron suggested "going to see" this resistance. But only "if people are ready to talk." "In my house, saucepans and eggs are for cooking," he said.
You have 45.11% of this article left to read. The rest is for subscribers only.