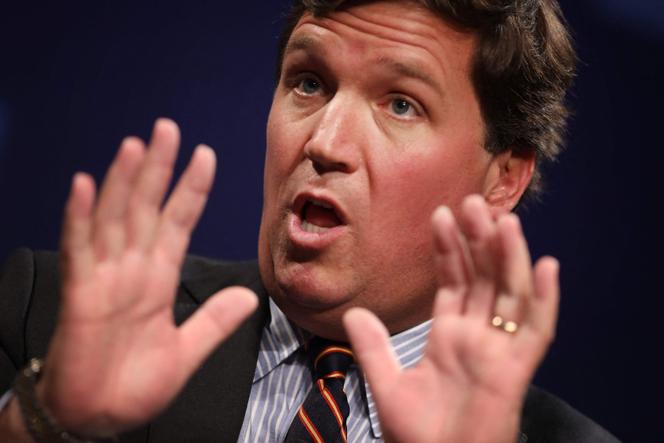 The news was delivered via a sudden and unexpected statement. On Monday, April 24, the conservative network Fox News announced that it was parting ways with its star anchor, Tucker Carlson. The decision comes a week after the network agreed to pay a whopping $787.5 million (€713 million) to Dominion Voting Systems Corporation to avoid a libel suit. During this process, a number of private messages from Carlson were revealed, some of which harshly criticized Fox News manager and owner, Rupert Murdoch.
With close to 18 months to go until the next US presidential election, the ousting of the 53-year-old news anchor is a major shake-up, both in the media and in politics. His daily news segment was the most-watched cable news program, with an average of 3.2 million viewers. But this number doesn't account for his viral social media videos broadcast on numerous websites. Carlson is one of the most influential right-wing ideologists in America. Republican politicians viewed being on his show as a form of endorsement.
Read more
Fox News settles defamation case for $787.5 million
"We'll see you Monday," said a light-hearted Carlson on Friday night at the end of his show, as if nothing had happened. The "common agreement" evoked by Fox News in its press release seems more like an amputation. In his final segment on the show, Carlson ate pineapple and sausage pizza with a delivery man who thwarted a fleeing suspect a few days earlier in a small town in Pennsylvania.
In April 2017, Tucker Carlson took over from Bill O'Reilly in the channel's prime-time slot at 8 pm. O'Reilly, a veteran television host and influential political commentator, was forced to leave the network abruptly following multiple allegations of sexual harassment. An internal investigation and the drop in advertisers forced the network to make a radical decision, by being willing to welcome a new era.
A very effective television show
Carlson came from the opposite side of the spectrum. He got his start on CNN before moving to MSNBC, where he hosted a political show between 2005 and 2008. On Fox News, he had to find a way to stand out. Fox News star Sean Hannity whispered in the ear of then President Donald Trump and sang his praises without restraint. Carlson, on the other hand, chose his own path: Trumpism without Trump. He saw enormous potential in the MAGA ("Make America Great Again") base, a mishmash of all different types of Americans, who were mostly uneducated Christians with weapons in their hands who felt ignored.
Carlson spoke to them like he was their friend, distorting the truth, exaggerating, lying, naming domestic enemies including "liberals," teachers, "wokes," the Black Lives Matter movement, and so on. In other words, a very effective television show, with minute-by-minute concern for audience ratings, as reported by the New York Times in an investigation in April 2022. Carlson obsessed over immigration and crime, and his team mastered the art of twisting a piece of history, an anecdote or a rumor into a larger narrative of moral decay.
You have 44.86% of this article left to read. The rest is for subscribers only.