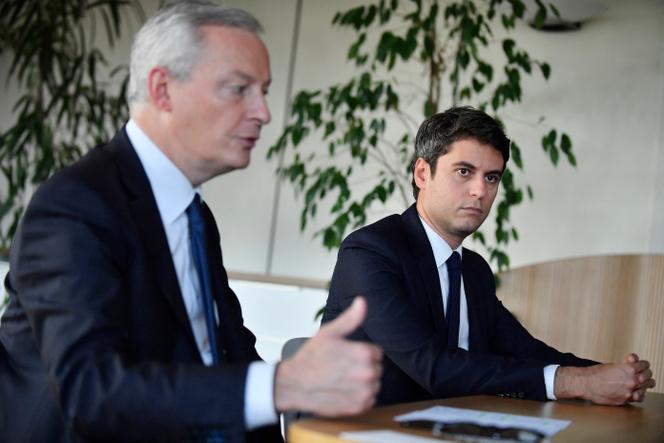 Now that the law on pensions has been enacted, will France finally reduce its debt? In any case, this is the political signal that Finance Minister Bruno Le Maire and Junior Minister for Public Accounts Gabriel Attal were keen to send on Thursday, April 20, as they presented a stability and convergence program required yearly by the European Commission.
The document, in which members of the bloc are pressed to lay out their fiscal plans for the next three years, is especially significant this year in France as it comes after a pension reform which, from the outset, has been focusing on the financial balance of the system.
Speaking to reporters, Le Maire praised his objective of "accelerating France's debt reduction." By his side, Attal added that the era of free money was over: "We must regain control of our debt to remain free [in] our choice."
In the document, which is to be presented to a Council of Ministers on April 26, the government has set a surprisingly ambitious target: Public debt, which had already fallen to 111.6% of gross domestic product by the end of 2022, will have to be reduced further to 108.3% by 2027.
In previous versions of the trajectory, debt as a percentage of GDP did not begin to decline until 2026, in line with French President Emmanuel Macron's campaign promises.
Read more
Article reserved for our subscribers

The reasons behind the inexorable rise in French public debt
Optimistic
The public deficit is also expected to shrink faster than expected, falling from 4.7% of GDP last year to 2.7% at the end of Macron's term, less than the 2.9% targeted by the government so far despite a leap to 4.9% forecast this year .
"We have just asked our compatriots to make an effort with the pension reform (…) it is fair that the public actors (state, local authorities, social security) are also asked to contribute," Le Maire said.
These ambitions may come as a surprise at a time when interest rates are rising and Macron has been making a number of costly promises lately including a military programming law (€413 billion between now and 2030), an increase in student scholarships and teachers' salaries , and commitments of additional resources to provide up to 700 new positions at the ministry of foreign affairs.
Where, then, will this debt control come from? Partly from inflation, even though the government does not formulate it in this way. While it undermines household purchasing power and business margins, rising prices – over a short period of time – are good for public finances. They reduce debt as a share of national wealth while allowing tax revenues to rise. In this case, the government estimates that inflation will rise to 4.9% this year before falling back to 2.6% in 2024.
You have 56.16% of this article left to read. The rest is for subscribers only.