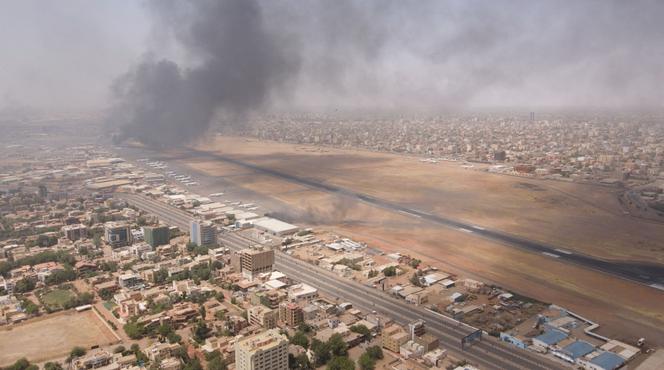 The United States military swooped in on helicopters to evacuate embassy staff from Sudan's battle-torn capital Khartoum, President Joe Biden said on Sunday, April 23, as other nations sought to help their citizens flee a deadly battle between rival generals.
France on Sunday also launched evacuation operations from the northeast African nation, where ongoing fighting has entered its second week.
On Friday and over the weekend, the Sudan Armed Forces (SAF) – the country's regular army – led by General Abdel Fattah al-Burhan intensified air raids on positions held by the paramilitaries of the Rapid Support Forces (RSF) led by General Mohammed Hamdan Daglo, known as "Hemetti."
The fighting is believed to have killed more than 400 and left thousands wounded although many experts warn the toll could be much higher.
Biden, who said the US military "conducted an operation" to extract US government personnel, condemned the violence, saying "it's unconscionable and it must stop."
Just over 100 US special operations troops took part in the rescue to extract fewer than 100 staff, which saw three Chinook helicopters fly from Djibouti, staying on the ground in Khartoum for less than an hour.
France's foreign ministry said a "rapid evacuation operation" had begun and that European citizens and those from "allied partner countries" would also be assisted, without giving further details.
More plans were being considered to evacuate foreigners, with South Korea and Japan deploying forces to nearby countries, and the European Union weighing a similar move. The German ministers of defense and foreign affairs held a crisis meeting on Saturday to study a possible evacuation, according to weekly Der Spiegel.
Newsletter
THE WORLD IN FRENCH
Every morning, a selection of articles from The World In French straight to your inbox
Sign-up
Fighting continued on Sunday with the crackle of automatic gunfire echoing across Khartoum and Sudanese military aircraft roaring overhead, witnesses said.
Frightened residents, many low on water, food and other essentials, have huddled inside their homes in the chaos-torn city where buildings have been gutted, lampposts are lying on the ground and smoke has been rising from shops set on fire.
While the capital has seen some of the fiercest battles, fighting has also been taking place in other parts of the country such as in the western region of Darfur where Doctors Without Borders (MSF) in the city of El Fasher said medics had been "overwhelmed "by the number of patients with gunshot wounds, many of them children.
In Khartoum, a city populated by five million, the conflict has left terrified civilians sheltering inside their homes, with power largely cut amid sweltering heat and the internet cut for most.
Many have ventured out only to get food and water, supplies of which are dwindling, or to flee the city.
"We were living in darkness. First, we didn't have water and then we didn't have power," Khartoum resident Awad Ahmad Sherif said. "We ask God for our safety."
The World Food Program said the violence could plunge millions more into hunger in a country where one-third of the population needs aid.
Read more
Sudan's people held hostage by conflict between generals