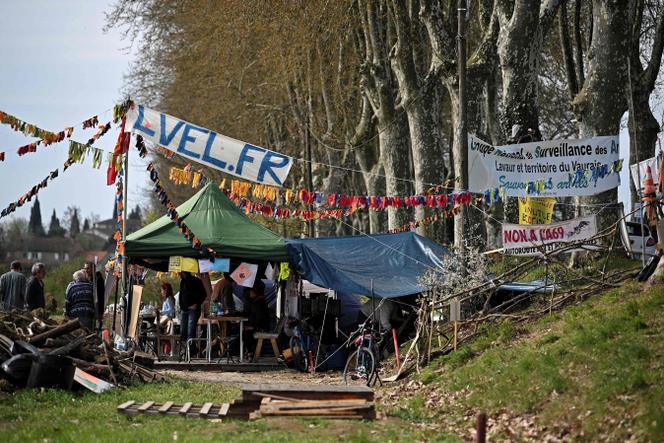 Nearly a month after the violent clashes between demonstrators and police in Sainte-Soline, western France, over a controversial water reservoir under construction, a demonstration against the planned A69 highway between Castres and Toulouse will take place on the weekend of April 22- 23. This new demonstration will again take place under close police surveillance.
The government fears a "zone to defend" ("ZAD", a form of occupation/sit-in protest) will be established during the protest, which has been called for by organizations including Uprisings of the Earth, one of the organizers of the Sainte-Soline protest. On April 5, during a hearing in the Senate, Interior Minister Gérald Darmanin said the project was among 42 which were "likely to give rise to extremely violent protests," including "against republican institutions."
Read more
Article reserved for our subscribers

What happened at violent protest against water reservoirs in western France?
To prevent this, authorities are planning to strictly regulate the demonstration, which should begin on Saturday, April 22 at midday in Saïx, southern France. A contingent of nearly 800 gendarmes and CRS riot police will be deployed, including eight mobile units. The prefecture has issued a statement saying the objective of the police mobilization is not "to oppose a gathering (…) and demonstration on a public thoroughfare (…) but to render them secure and respond to any illegal act."
With delegations expected from Paris, Bordeaux and Lyon, the organizers – including Extinction Rebellion Toulouse and the Confédération Paysanne agricultural union – hope to take their struggle to the national level. "This gathering will be festive, popular and family-oriented," said an activist from Extinction Rebellion Toulouse. "Our peaceful struggle aims to mobilize all of us against this aberrant project. We only want to keep our fertile lands and clay soils," said Laurent Prost of the LVEL collective.
The 53-kilometer highway project is intended to link Castres to the town of Verfeil by 2025, reducing the Castres-Toulouse trip from just over an hour to just over 40 minutes. The project has been on drawing board for 30 years, and was supported by the founder of the Pierre Fabre dermatological laboratories, the largest employer in the area. Construction of the highway is now supported by regional authorities, including Socialist region president Carole Delga.
A makeshift camp
"We are the only conurbation of a hundred thousand inhabitants in this situation. Albi, Montauban, Rodez and Foix are linked to the Toulouse metropolis by a highway," said Pascal Bugis, the (independent) mayor of Castres since 2001 and president of the Castres-Mazamet conurbation since 2008. He is a fervent supporter of the project: "We can't have development without this infrastructure. It is about allowing employees and business leaders to settle in our local area."
You have 55.25% of this article left to read. The rest is for subscribers only.