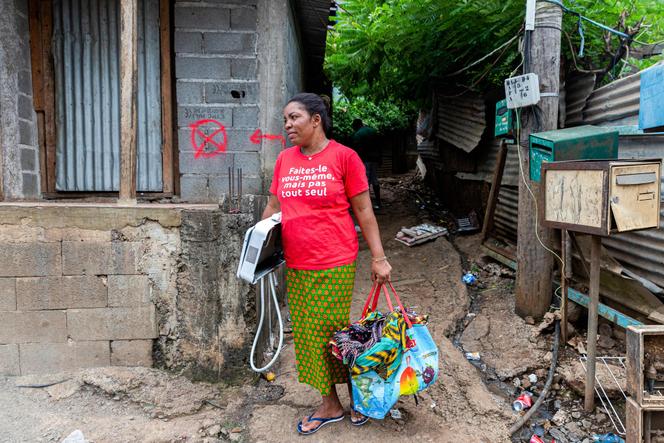 Mayotte, a French territory in the Indian Ocean, is experiencing uncertainty, suspense and rising tension, with Operation Wuambushu on everyone's mind. This plan to combat delinquency, illegal immigration and the expansion of shanty towns, confirmed by Interior Minister Gérald Darmanin on Friday, April 21, is fueling concern and anxiety.
The government has brought the number of police and gendarmerie present in the 101st French department, the poorest in the country, to 1,800. "We're going to keep on increasing police numbers over the coming week and the weeks that follow," said Mayotte Prefect Thierry Suquet on Monday, April 24, from a parking lot in Tsoundzou, a suburb of Mamoudzou, where gangs of youth have been clashing with law enforcement officers since Sunday, April 23.
On the evening of April 24, however, a Mamoudzou court threw a spanner in the works of what was to be the first large-scale eviction in the Talus 2 neighborhood of Majicavo, in the north of the island of Grande-Terre. The judge ordered the prefect to "cease all evacuation and demolition operations" scheduled for April 25 in this neighborhood and to offer the families suitable rehoming solutions as well as storage facilities for their belongings, which risked being destroyed during Operation Wuambushu. The Mayotte prefect has acknowledged the ruling and has asked government lawyers to appeal.
Some on the French territory in the Comoros archipelago are dreading the operations to evict and demolish the "bangas," which refers to the kinds of houses in the shantytowns. In Mayotte, which has the highest population density in France after the Paris region, 40% of the more than 60,000 dwellings are "unfit for habitation," constructed mainly out of sheet metal, and often with no access to drinking water or electricity.
Darmanin promised the destruction of 1,000 bangas within two months. "This is based on ARS [Regional Health Agency] analyzes which show that this habitat is dangerous for the people living there and for their health," he said on Monday. The interior minister intends to expel people with no residence permits living there, who are mainly from the neighboring Comoros and who represent a total of 30% of the island's population.
'Last ditch attempt'
Many organizations are up in arms against Operation Wuambushu. "This 'dramatic gesture' of destroying slums and large-scale expulsions promised by Darmanin smacks of extensive violence and violations of the law," according to the UCIJ-2023 (United Against Disposable Immigration), an umbrella organization for 400 organizations and unions, including the League of Human Rights (LDH). The lack of transparency in which the operation has been prepared is particularly worrying. "It will destabilize the island," said Mayotte barrister, Marjane Ghaem, "Violence and increasingly complex social relations is what we're afraid of," said her colleague Mélanie Mauritanie in corroboration.
You have 58.99% of this article left to read. The rest is for subscribers only.