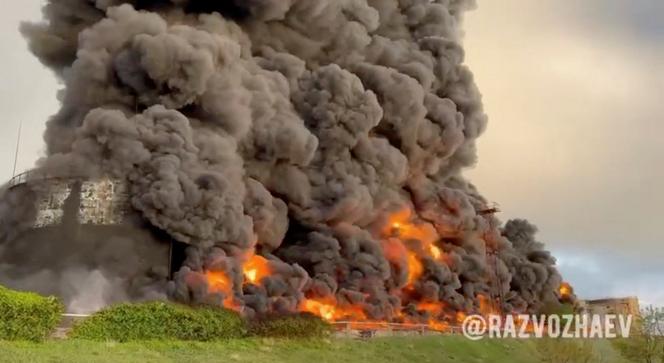 A huge fire broke out on Saturday, April 29, at a fuel depot in Sevastopol, the main port in Moscow-annexed Crimea, with authorities saying it was the result of a drone attack.
Sevastopol is home to Russia's Black Sea Fleet and has been hit by a series of drone attacks since the Kremlin's Ukraine offensive launched last year.
Read more
Article reserved for our subscribers

Putin threatens to deport Ukrainians from regions annexed by Russia
"A fuel reserve is on fire in the Kazachya Bay district" of the city, the Moscow-installed governor of Sevastopol Mikhail Razvozhayev said on Telegram in the early hours of Saturday. "According to preliminary information, it was caused by a drone strike."
He said the fire's size was "around 1,000 square meters" and published images of huge clouds of smoke rising into the air. Razvozhayev called on Crimeans to "remain calm" and in a later post said, "nobody was hurt."
He said authorities had "the situation under control" and said there was no threat to civilian infrastructure. Earlier this week, Russia said it had "repelled" a drone attack on the port.
Russia annexed Crimea from Ukraine in 2014.
Novaya Kakhovka under 'intense artillery fire'
Russian occupational authorities in southern Ukraine said Saturday that Ukrainian forces were subjecting the city of Novaya Kakhovka to "intense artillery fire" that had cut off electricity.
Read more
Article reserved for our subscribers

The war in Ukraine along the Dnipro River: 'This used to be the pleasure bank'
The shelling came the same day that authorities in Russian-annexed Crimea reported a drone attack on a fuel depot and as Kyiv prepares for a widely expected counter-offensive against Moscow's forces.
Novaya Kakhovka is in the part of the southern Kherson region that Russia controls. It lies upstream the Dnipro River from Kherson, the regional capital from which Russia withdrew last November.
"Novaya Kakhovka and settlements around the district are under very intense artillery fire from the armed forces of Ukraine," the city's Russian-installed authorities said on Telegram. It added that the shelling left the city "without power."
The Moscow-installed authorities urged people in the city "to keep calm" and said that work to restore power will start "after the shelling ends."
Newsletter
THE WORLD IN FRENCH
Every morning, a selection of articles from The World In French straight to your inbox
Sign-up
Novaya Kakhovka fell to Russian forces on the first day of their offensive in Ukraine on February 24, 2022.
It is home to the Kakhovka hydroelectric dam, a strategic target capture in the first hours of Moscow's offensive.