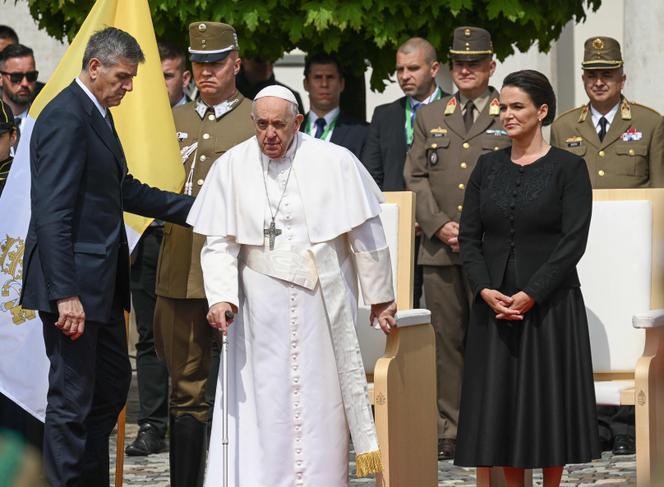 President Novak had to take his seat in front of the Hungarian presidential palace before the pope would take his. Leaving his wheelchair behind, the pope insisted on receiving the military salute on Friday, April 28, standing and leaning on his cane for what felt like a long time. Hospitalized for several days in March for bronchitis, the Pontiff wanted to appear in good shape for his three-day visit.
Read more
Article reserved for our subscribers

Pope Francis to condemn 'the icy winds of war' on Hungary visit
Pope Francis met with Prime Minister Orbán, who he spoke to for about 20 minutes after exchanging a long handshake. The pope then went on to a nearby former Carmelite monastery to address members of the government and the diplomatic corps. Standing, he also addressed the Hungarian people and, through them, Europe as a whole.
Budapest, the architectural jewel of Central Europe, is 300 kilometers from the Ukrainian border. For the pope, he was an opportunity to admonish European leaders and Western nations on their management of the conflict, which he believes is making things worse rather than better. This line is close to Orbán's, who maintains ties with Vladimir Putin's Russia, who he depends on economically and whose identity values ​​he shares.
'Recovery of the European spirit'
Francis seemed to feel that Europe is not looking hard enough for a diplomatic way out of the war. He iterated that Ukraine and Russia need to get together around a negotiating table. At the international level, "it seems that politics serves more to stir up emotions rather than to resolve problems, as the maturity attained after the horrors of the war give way to regression towards a kind of adolescent belligerence," the pope lamented.
Read more
Article reserved for our subscribers

Dialogue with Putin? For Pope Francis, a failure to do so 'would be closing the only reasonable door to peace'
Just before, Francis had declared that "enthusiasm for building a peaceful and stable community of nations seems to be cooling," while "nationalism is on the rise, and ever harsher judgments and language are used in confronting others." In his view, Europe needs "the contribution of all, while not diminishing the uniqueness of each." The pope seemed to regret that Hungary is criticized by Western Europe for its conciliatory position towards Russia.
Francis believes that it is necessary to continue to talk to the Kremlin to find a solution, considered "essential" to "recover the European spirit" and spoke of the need to "welcome other peoples and to refuse to consider anyone an eternal enemy." He went on to call for a diplomacy "capable of pursuing unity, not aggravating differences," asking "where are the creative efforts for peace?"
To Western Europe, the Pope seems to be saying that there are other visions than the one that leads to sanctions and arms shipments to Ukraine. In Rome, many were concerned that this trip would be taken advantage of by the Hungarian Prime Minister. Orbán, who constantly claims that he is the last European member of the peace camp, seeks to legitimize his position. "Does [the pope] really know what he is doing? If he wants to talk about peace, why doesn't he go and talk to refugees on the border between Poland and Ukraine? Why give Viktor Orbán this attention?" a diplomat at the Holy See asked before the trip.
You have 30.01% of this article left to read. The rest is for subscribers only.