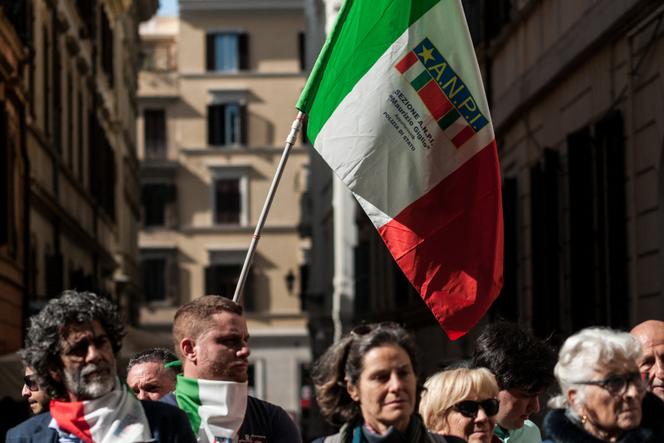 On Tuesday, April 25, Italy is due to celebrate its liberation from fascism and the German occupiers. Or part of the country is, because the date is still controversial, 78 years after the end of the civil war between resistance fighters and Mussolini's supporters, while the commemorations have served for decades as a basis for an official rejection of fascism, inseparable from a republican identity constructed by the victors.
The controversy surrounding this national holiday is not new to the right. This year, however, it is taking a different and more violent turn. For the first time since the end of the Second World War, the remote heirs of the defeated side in 1945 dominate the executive. Their political family has participated in coalition governments since the 1990s, and is now dominant in the Italian right, led by Prime Minister Giorgia Meloni, head of the far right Fratelli d'Italia party.
Meloni was born in 1977, and her political generation no longer has much in common with its neo-fascist and post-fascist predecessors, who had already rejected fascism as an "absolute evil." However, the memory of the Italian civil war, echoed in the conflict between the far left and the far right in the 1970s, is once again a matter of controversy in Italy, where the past still weighs heavily, and where the Meloni right believes it has ground for retaliation against a "cultural hegemony" long in the hands of the Left.
Read more
Article reserved for our subscribers

Italy struggles to lay Mussolini to rest
La Russa's outings
"To speak of a return of fascism as in 1922 would be ridiculous. The crisis of anti-fascism, on the other hand, is obvious," argued Ezio Mauro, 74, a leading figure in Italian journalism and former editor-in-chief of the center-left daily La Repubblica. "This government is working to abolish a civic religion that is the basis of our Constitution."
The controversies of the past few weeks have been particularly driven by the repeated outbursts of Senate President Ignazio La Russa, 75, representative of a right-wing generation raised in the shadow of the post-war neo-fascists. For example, La Russa said in an interview with La Repubblica on April 21 that in his view the Constitution of the Italian Republic is not an "anti-fascist edifice," contrary to what the left claims.
Shortly before, La Russa, who keeps busts of Benito Mussolini at home, had caused a scandal by proposing an alternative reading of an episode of great importance in Italian history – the attack on the Via Rasella, the most dazzling action of the Italian Resistance against an SS regiment on March 23, 1944. For La Russa, the 32 dead on the German side were "semi-retired members of a musical group" and not Nazis.
You have 65.23% of this article left to read. The rest is for subscribers only.