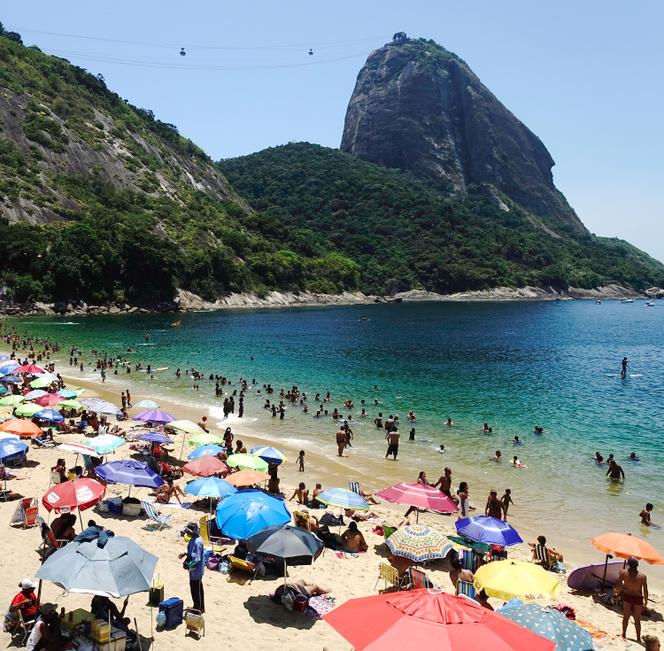 LETTER FROM RIO DE JANEIRO
Autumn has begun in the tropics, and it's the most beautiful season to visit Rio de Janeiro. The Praia Vermelha (Red Beach) glows in the morning sun. Nestled between the hills of the rainforest, this heavenly cove in the heart of the city and at the foot of the imposing Sugarloaf Mountain would be enough to give the city its nickname of "Wonderful City." Except that an ugly green and fuchsia stain now spoils the view. In fact, it's a tarp that covers the ongoing work at the top of Pão de Açúcar, on a project which is dividing the Cariocas: a zipline.
The 755-meter-long cableway will connect the 396-meter-high Sugarloaf Mountain to its small neighbor, Morro da Urca (220 meters), by the end of the year. This will provide a huge thrill for tourists, who will be able to jump into the void at 100 kilometers per hour on four separate cables while contemplating one of the most beautiful urban landscapes in the world. The project is led by the private company Parque Bondinho Pão de Açúcar, which is in charge of managing the natural monument. Parque Bondinho Pão de Açúcar aims to make the place nothing less than "the best-integrated platform for sustainable experiences in tourism, entertainment and media in South America."
But a large portion of Rio's inhabitants, and in particular in the Urca neighborhood, do not approve of this attraction. Rodrigo Veloso, a 29-year-old sociologist, is one of the leaders of the protest movement campaigning against the zipline. "Parque Bondinho did not consult anyone about this project and committed several illegal deeds. They razed 70 square meters of forest and drilled into the rock, which is totally prohibited in this listed area." Veloso explained how the zipline would "produce unbearable noise pollution for local residents and generate an influx of tourists that will cause total congestion in the Urca neighborhood."
Read more
Article reserved for our subscribers

Lula takes action to end gold mining in Indigenous Yanomami territory
A symbol of Brazil
The struggle is highly symbolic as Sugarloaf has always been the picture postcard image of Rio and Brazil. The origin of its name remains mysterious, but no one would dare to dispute its status as a guardian watching over the city ever since it was founded in 1565. The mountain's granite slopes, which welcome hikers and climbers, are also home to many monkeys, birds and tropical plants. Listed as a heritage site both by Brazil and UNESCO, it has been accessible since 1913 thanks to a cable car, affectionately nicknamed the bondinho ("little streetcar"). Its two routes are used by over a million tourists every year to access the Morro da Urca and the Sugarloaf from the Praia Vermelha.
You have 48.74% of this article left to read. The rest is for subscribers only.