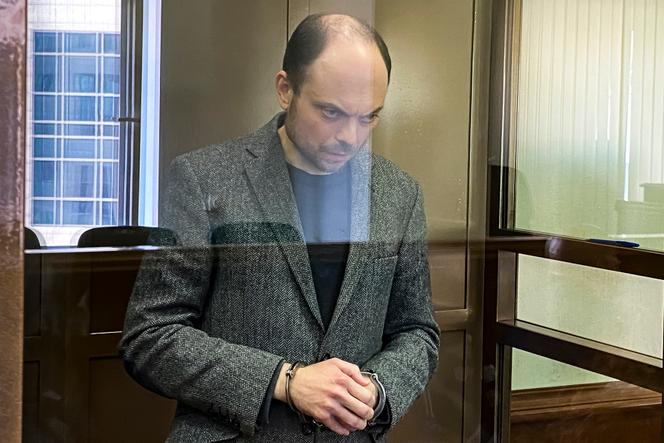 VLadimir Kara-Murza was sentenced on April 17 to a 25-year term in a harsh prison colony for "spreading false information about the army" and for "high treason." There is no evidence to support either charge. The penalty is equivalent to a death sentence, due to his poor health in the aftermath of two poisonings, presumably of criminal origin.
After the assassination of his friend and fellow oppositionist Boris Nemtsov in 2015, just a stone's throw from the Kremlin; after the conviction of Alexei Navalny, who had already been poisoned with Novichok and who now has all the symptoms of heavy metal poisoning; and after the imprisonment of Ilia Yashin; Kara-Murza is the latest prominent member of the opposition still in Russia to endure the wrath of the Kremlin, not to mention the personal vendetta by Russian President Vladimir Putin.
It is not enough to protest against this new arbitrary and barbaric act, which for the first time matches the scale of penalties levied during the Stalinist era. It is not enough to point out that with this arbitrary sentence, Putin falls a bit more into line with the worst tyrants that humanity has ever known.
Hypocrisy
Nor is it sufficient to note that it will make it even more difficult to tolerate the hypocrisy of China and the heads of state in the "Global South," who have posed as peace brokers for what they have called a "conflict," pretending to be unaware that it represents a crime of aggression against a sovereign country and that Russian forces have been multiplying war crimes, crimes against humanity and crimes of genocide for more than a year.
It is now possible to take action by imposing personal sanctions against all those who were involved in this travesty of justice, thanks to the "European Magnitsky Act," adopted by the European Council of Heads of State and Government on December 10, 2020. The law is modeled after the Magnitsky Act passed by the US Congress in 2012. The measure was enacted to punish, by freezing their assets and barring them from entry into the United States, those responsible for the death in prison of lawyer Sergei Magnitsky, who had been investigating a $230 million [about €177 million at the time] tax fraud involving Russian officials. The law was later expanded to cover all those responsible for significant human rights violations.
In the early days of Putin's dictatorship, those who were troublesome were simply murdered, and the masterminds were neither identified nor harassed. Consequently, following the execution of Anna Politkovskaya in 2006, only the scapegoats were brought to trial, and maybe not even good ones.
You have 44.16% of this article left to read. The rest is for subscribers only.