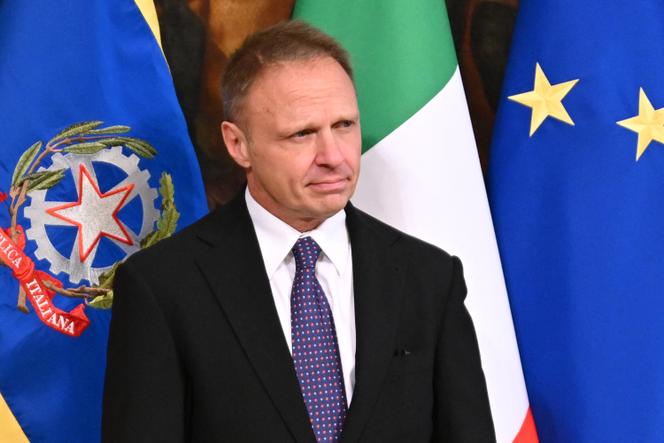 Italian Prime Minister Giorgia Meloni's government is totally obsessed with Italy's rapidly declining demographics and the issue of immigration. Immigration could help solve its demographic problems but the Italian government – ​​dominated by the far right – has now publicly expressed its alarm that such a prospect could result in the "ethnic replacement" of Italians by foreigners.
These comments were made on Tuesday, April 19, by one of Meloni's closest allies and her brother-in-law, the 51-year-old Minister of Agriculture and Food Safety Francesco Lollobrigida, whose influence extends far beyond his ministerial portfolio. His remarks sparked outrage and became a hot topic of public debate among Italians on Wednesday, all the while a draft bill was being debated in the Senate, containing new and very restrictive provisions against migrants who do not have refugee status.
"Italians are having fewer children, so we're replacing them with someone else. Yes to helping births, no to ethnic replacement. That's not the way forward." said Lollobrigida during a congress of the Italian Confederation of Autonomous Trade Unions. His comments came after a discussion on the shortage of labor in the Italian economy and the serious birth rate crisis affecting the country, as confirmed in early April by a report issued by the National Institute of Statistics putting the number of children born in 2022 at less than 400,000, the lowest since 1861.
Read more
Article reserved for our subscribers

Italy: In Florence, increasingly conspicuous far right causes tensions
Advocating welfare incentives to encourage Italian births in opposition to migratory flows seen from an ethnic perspective, the Italian minister's statements seemed to directly echo the conspiracy narrative of "Great Replacement" theory popular among far-right circles in the West.
'Disgusting words'
The opposition was quick to emphasize how Lollobrigida's remarks were reminiscent of this so-called "theory," which has inspired murderous attacks by far-right terrorists from New Zealand to Norway and the United States. Elly Schlein, the new head of Italy's Democratic Party (PD, left-wing), denounced his remarks saying his "disgusting words, unworthy of someone who holds the role of minister of the Republic (…) have the flavor of white supremacism ," and called on Meloni – as the president of the Council of Ministers – to distance herself from the issue.
As well as both the Azione centrist party and the anti-system populists of the M5S, who denounced it as an act of "racist propaganda," Riccardo Magi, the leader of the liberal party +Europa, spoke out against statements as "typical of the conspiracy theorist right." Magi also noted that they were made on the day when Italian President Sergio Mattarella was visiting the Auschwitz memorial after arriving in Poland on Sunday for a state visit.
You have 54.28% of this article left to read. The rest is for subscribers only.