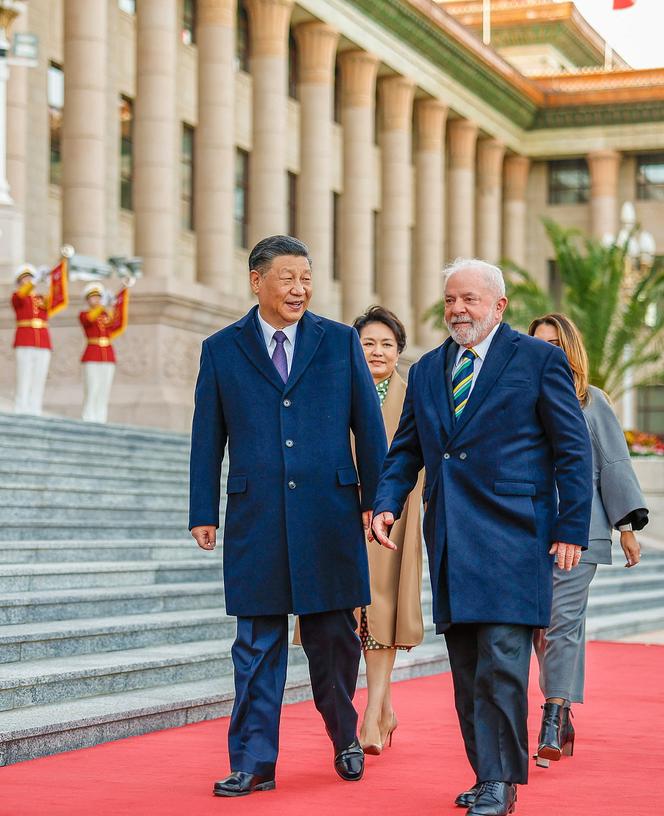 On April 13 and 14, Brazilian President Luiz Inacio Lula da Silva made a 48-hour visit to Shanghai and Beijing, marked by a strong expression of interest in a Huawei communication system, the first commercial transaction in yuan instead of dollars, criticism of " US hegemony" and sympathetic words on the Ukraine crisis, providing China with some satisfaction. Both diplomatically and economically, the two countries decided to develop their relations "to shake off unfair rules and realize fairer and more balanced development," in the words of Lula, highlighted in a Chinese statement.
Symbolically, Lula gave his first speech in China on Thursday, April 13, at the inauguration ceremony of Dilma Rousseff as head of the New Development Bank (NDB) of the BRICS (Brazil, Russia, India, China and South Africa). The bloc believes that its influence on the international scene does not match its economic weight, now neck and neck with the G7 countries.
Read more
Article reserved for our subscribers

On China visit, Lula wants to bring Beijing closer to Brasilia
Alongside Rousseff, his longtime ally and former president of Brazil (2011-2016), Lula called for the reform of multilateral organizations, such as the World Bank and the International Monetary Fund (IMF). In particular, he questioned why the world's economies rely on the dollar. "Every night I ask myself why all countries have to base their trade on the dollar," he said. "Why can't we use our own currency? Why can't we innovate? Who decided that the currency would be the dollar after the disappearance of the gold standard?"
China dominates the relationship
Lula also said that the BRICS bank "has great potential for transformation" because it "frees emerging countries from submission to traditional financial institutions." According to Valdir da Silva Bezerra, a researcher at the BRICS Studies Group at the University of São Paulo, Lula is making this claim because "the BRICS' contribution to global GDP at purchasing power parity will be more than 50% by 2030." In addition, post-war multilateral financial institutions such as the World Bank and International Monetary Fund are going through a crisis of legitimacy.
With the first trade transaction in yuan just completed, Brazil may be facing a new problem of owning yuan it doesn't need, since Brasilia sells more to Beijing than it buys from it. "That's true but it's a secondary problem. At least our trade with our main trading partner will no longer depend on the goodwill of a third party," a Brazilian diplomat in China said.
According to Yi Shin Tang, a professor at the Institute of International Relations at the University of São Paulo (USP), "Brazil wants to gain influence in the BRICS group, currently monopolized by China, so its voice is better heard at the World Trade Organization and to align itself with China on the green agenda [the climate issue]for example," Yi said.
You have 53.91% of this article left to read. The rest is for subscribers only.