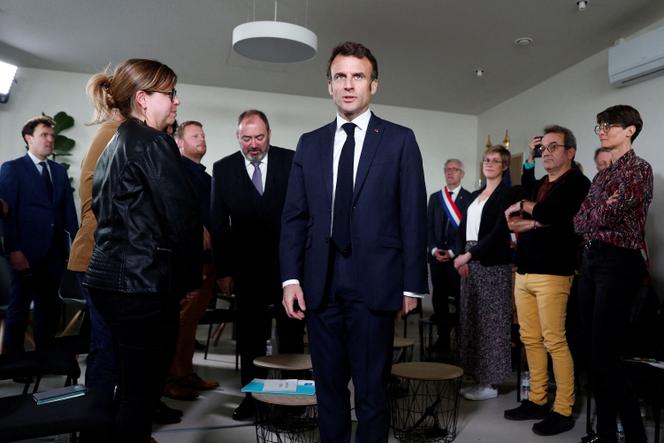 Macron's visits to various communities around France are now divided into two distinct atmospheres: indoors and outdoors. Like a candidate on the campaign trail, he takes the stage; exposing on his themes, defending his record, ready to take questions… but outside the venue for that day's visit is a different story.
On Tuesday, April 25, for his third such visit in six days, the president traveled to Vendome in central France to speak with medical professionals in a health center. "The challenge, we know, is that we have a deficit of caregivers and it will not be resolved," he said, after talking about "zoning," maternity care under threat, medical assistants… a dialogue that was broadcast on the Elysée Palace's social media accounts, a bubble of freedom.
Because around him, the area had been secured by barricades. Nearby, a few dozen people, some of whom displayed their support for the president, had been authorized to gather behind a metal barrier. Some of their bags were searched nevertheless, as the local prefecture had decided to prohibit "sound amplifying devices".
Read more
Article reserved for our subscribers

'Macron is the image of a monarch besieged by an angry public and thus unable to generate momentum'
A few hundred meters away, on the other side of the street, protesters waved CGT and Solidaire trade union flags and banged on pots and pans, under the watchful eye of the CRS riot police, trying to get around the security measures then eventually giving up .
Day after day, opponents of the pension reform continue to trail Macron. In anticipation, the administration are installing generators in case trade union activists cut the power, including in the Bas-Rhin and Hérault regions, in Alsace and southern France respectively, the last destinations slated for the head of state's unofficial tour de France.
Presidential resolution
On Tuesday, the president did not make contact with those outside, limiting himself to a wave to a few supporters or a brief talk with the people waiting for him at his helicopter. "There hasn't been great enthusiasm about the reform, we have rarely had so many demonstrators in the streets," said Christophe Marion, MP from Macron's Renaissance party for the Loir-et-Cher department, where Vendôme is located. He too was welcomed with pots and pans during a recent public meeting, and saw his office pelted with eggs by the crowd. "But it is important for him to keep moving, it is a release valve because people need to express themselves."
In private, the president continues to take the same line. The French people have given him a mandate to carry out the pension reform and he now wants to move on, by dealing with everyday issues. While affirming that he respects the anger people feel over pensions, he also describes it as a stage that some want to set. He has repeatedly said that France cannot allow itself to get bogged down in something that attracts so much media focus, or the country will grind to a halt.
You have 60.5% of this article left to read. The rest is for subscribers only.