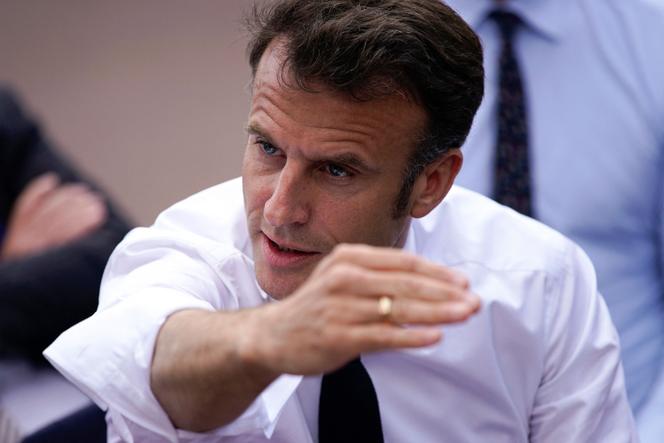 French President Emmanuel Macron keeps trying to get away from the crisis generated by a pension reform that will raise the retirement age in France from 62 to 64 by 2030.
To mark the first anniversary of his re-election on Monday, April 24, Macron agreed to a long exchange with 11 "reader-interviewers" of Le Parisien-Today in France conducted on Friday, April 21, at the Elysee, and published on Sunday.
The French leader said he wanted to "re-engage" in the public debate and defended the principle of a major bill to tackle immigration. He also spoke about inflation, schools and Marine Le Pen of the far-right party Rassemblement National.
We thought: Macron should have 'gotten more involved' and wants to 're-engage in the public debate'
Very much in the background during the pensions "sequence," Macron said he should have gotten "more involved" in this flagship reform of his second five-year term. "Perhaps the mistake was not to be present enough, to give consistency and carry this reform myself," he said. Macron added, without going into too much detail, that Elisabeth Borne, his prime minister, "is doing her job well in a difficult moment."
On the substance of the reform, the president once again advocated a "necessary" evolution, adding: "Pension reforms are always difficult. As long as there have been pension reforms, they always go wrong. So, it's always better to do it early in the term."
"I have to re-engage in the public debate because there are things that are not clear. So I do it everywhere," Macron said, adding he had given himself "100 days" to revive his mandate.
Booed during a walkabout in Alsace, followed everywhere by demonstrators hitting saucepans in recent days, Macron said he accepted criticism. But he also added that he wanted to "fight against violence and incivilities," calling for "punishment" of those who cut off the power supply in the venues he had been visiting.
On inflation: 'It's going to be tough until the end of the summer'
Macron predicted difficult times ahead with regard to inflation but announced no new immediate measures to deal with it. "Food prices are going to be tough until the end of the summer," he said, as year-on-year food prices inflation stood at 15.9% in March after 14.8% in February.
Newsletter
THE WORLD IN FRENCH
Every morning, a selection of articles from The World In French straight to your inbox
Sign-up
Faced with soaring prices, Macron said "work" needed "to pay better," adding it was up to "employers" and "social dialogue" to solve the issue.
"I claim a record for [the purchasing power of] the middle class: The abolition of the housing tax and the television license (…) And the reduction of more than €4 billion on the first tranches of income tax," he also said.
On immigration: 'a single bill' to allow an 'effective and fair' legislation
"I want a law that is effective and fair, in a single bill that maintains this balance," said Macron. On March 22, he had explained that he wanted to divide the project into "several texts" in order to keep only the most consensual aspects in the absence of an absolute majority in the National Assembly. But the maneuver had aroused hostility across the whole French political spectrum. Gérald Darmanin, the minister of the interior, advocated last week for "a strong bill."
"The 'at the same time' is not an ambiguity. When you are on this ridge path, you are attacked in stereo, with some who say he is too soft and others who claim: 'he is awful,'" Macron said, adding he regretted an "often caricatured" debate around immigration.
"We must be more demanding in terms of integration, defend a French-style secularism," Macron said. "As for immigration, our procedures are far too long. The delays are exploding, people end up finding a job, settling down, and end up protected by other rules. So it doesn't work anymore."
On the Service National Uuniversal (General National Service, UNS), Macron wants a 'gradual ramp-up' in 'more territories'
Macron would like to see a "gradual ramping up" of the SNU, with "more territories adopting it," but "without making it compulsory in the whole country overnight."
"We need to go through the law to make it compulsory, but before that, we need to finalize the consultation," he said.
"I don't think we can make it mandatory nationwide overnight," because of the "logistical challenge" that would present, he said.
Macron said the SNU would initially apply in "a few departments, then a few more."
"It is an approach that recreates a community, a rite where we brew all regions and categories," he said about the project launched in 2019.
Macron had promised in his New Year address on December 31, 2022, that he would "lay the foundations for an SNU in the next few weeks or months."
"I will have the opportunity to come back to this in the weeks to come," he reaffirmed on January 20, before the army.
Macron confirms he wants 'a great ecological renovation project' for schools
Macron confirmed in his interview his wish to launch "a great project of environmental renovation" of schools which, too often, are "thermal flats" where the children "freeze and then are too hot."
"We will put the financing on it to accompany the municipalities which cannot go with it alone," he added, without further details.
The president had already announced in November last year his intention to take an "initiative" on the subject. "It is a great public work site. It will give jobs to the construction industry, it will help the municipalities because we will accompany them, it will reduce our greenhouse gas emissions and our children will work in good conditions," Macron said.
Macron also said he wanted to accelerate "the greening of schoolyards," seeing it as "a great way to have freshness wells in the heart of our cities and to educate our children."
Macron 'rejects' the term of 'police violence'
"In too many demonstrations, there are people who have a political project of destruction of institutions, who break urban equipment" and who "sometimes seriously injure our law enforcement."
While a reader of Le Parisien-Today in France said he was under the impression that the government was turning a blind eye, Macron replied: "That's not true. I defend our police officers."
"I also reject the term police violence," he said, referring to "very isolated cases" that "must be punished."
On reform of the French institutions: Macron does not want to remove the position of prime minister
Emmanuel Macron said he was "not in favor of removing the position of prime minister," unlike his predecessor François Hollande, as part of a reform of institutions for which he wants to submit "several questions for consideration."
Confirming his willingness to move forward on the subject of institutions, while Gérard Larcher, the president of the Senate, and Yaël Braun-Pivet, the president of the Assemblée Nationale, have said they believed that the issue was not a priority for the time being , Macron said he was going to "send them a proposal" as to "to see what there would be a way forward."
Macron also put forward "the question of popular sovereignty."
"Should we open, or not, the scope of referendums, or that of the referendum of shared initiative (RIP)? Should there be more proportional representation in the National Assembly? Should we go toward a regulation (…) of Parliament to avoid a blockage without going back to what we have seen [with the pension reform]?" Macron said.
Marine Le Pen will come [to power] if we establish a habit of lying or denying reality
Macron said that "Marine Le Pen will come [to power] if we do not know how to respond to the challenges of the country and if we install a habit of lying or denial of reality."
Macron said he had "no lessons to receive" on this subject because he had "beaten her twice" in the second round of the presidential elections of 2017 and 2022.
Does he imagine being escorted by Le Pen on the steps of the Elysée in 2027, a reader asked. "There are many people who make this political fiction," Macron said, recalling that five years before 2017, "nobody imagined for a second" to see him elected.
Macron said that we "will never win" against the Rassemblement National "in the game of the most populist and demagogue" but thanks to the "building sites of reindustrialization, ecology, order and the fight for our public services."
"If we manage to win the reindustrialization project, we will get people out of despair, misery and anger. If we manage to win on the environment, on order, on the fight for our public services, we will have people who will return to the Republican field," he said.