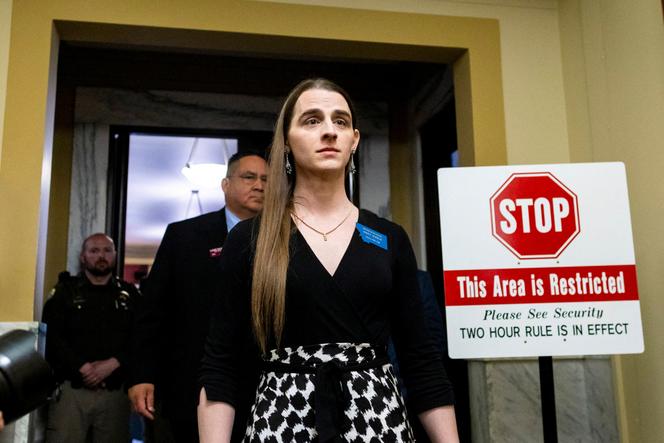 Republican lawmakers in Montana voted Wednesday, April 26, to bar a transgender Democrat from the assembly chamber after she blasted them for banning gender-affirming care in the US conservative state.
Zooey Zephyr was already banned from taking the floor of the Montana statehouse for the rest of the 2023 session, after refusing to apologize for telling Republicans they would have "blood on [their] hands" over the vote, comments which opponents said breached rules on decorum.
The spat is the latest on the hot-button issue of identity politics in the deeply divided United States, and comes on the heels of Tennessee Republicans kicking out two Black Democrats who argued that they were complicit in gun violence.
Read more
Article reserved for our subscribers

American conservatives mount offensive against transgender people
The new punishment, which means Zephyr can only participate in debates remotely, caps a week of clashes over a bill that prohibits transgender minors from receiving specific medical treatments such as hormones and puberty blockers.
Advocates say these are effective for people suffering from gender dysphoria – the clinical condition of distress that arises when a person's gender identity is not the same as their biological sex. Supporters say children and young people denied these treatments are at greater risk of self-harm or suicide.
In a defiant speech on Wednesday – she was allowed to speak on the motion to eject her from the chamber – Zephyr said her removal was an assault on democracy and an affront to the transgender community. "When I rose up and said there is blood on your hands, I was not being hyperbolic," she told the chamber, invoking the attempted suicide of a transgender person while watching a Montana statehouse debate on limiting transgender rights.
Read more
'Let her speak!': Protests erupt after Montana Republicans silence trans lawmaker in gender debate
When the speaker of the house demanded she apologies for the blood-on-your-hands comments, Zephyr said it was an attempt to silence her and make her complicit in legislation that causes real-world harm. "I refuse to do so. And I will always refuse to do so. I would also say that if you use decorum to silence people who hold you accountable, then all you're doing is using decorum as a tool of oppression."
The vote to remove Zephyr was passed along party lines, in a chamber where Republicans outnumber Democrats 68 to 32.
Newsletter
THE WORLD IN FRENCH
Every morning, a selection of articles from The World In French straight to your inbox
Sign-up
The American Civil Liberties Union condemned Zephyr's suspension, calling it "authoritarianism". "Freedom of speech is essential to our democracy. Trans people are an essential part of our democracy – both as voters and lawmakers – and must be defended," said Deirdre Schifeling, National Political Director at the ACLU.
Transgender rights are among the frontline issues in America's culture wars. Since January, 29 new laws restricting the rights of transgender people have been passed in 14 US states, according to an analysis of data from the ACLU published this week by The Washington Post.