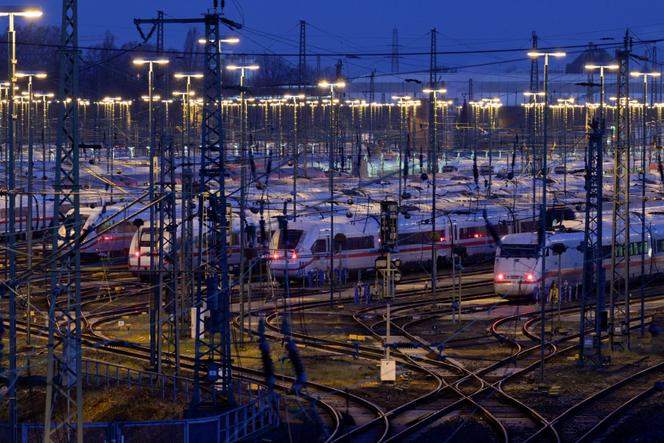 Never before have German rail passengers had to be so patient: Last year, only 65.2% of the trains of the Deutsche Bahn (DB), the state railway company, arrived "on time," ie officially less than six minutes late, a 10 % deterioration compared to 2021. This is enough to discourage those who might be tempted to leave their car in the garage, even though the three-party social-democrat-ecologist-liberal government has set ambitious targets for decarbonizing transport. By 2030, the plan calls for a doubling of the number of passenger kilometers (a unit of measure equivalent to the transport of one passenger over a distance of one kilometer) when it comes to rail as well as an increase in freight transport with a view of reaching a 25% ratio of freight traffic.
The project is already considered to be in jeopardy, as this year does not look any happier for rail travelers as a result of infrastructure problems. So much so that the government issued a mea culpa in early April. "We can only ask rail customers for understanding and ask them to excuse us. The situation is so dramatic that there is no alternative to the general renovation of the network," said Michael Theurer, secretary of state with the ministry of transport and digital infrastructure , adding the government had "found, upon arrival, burdens inherited from the past," in a reference to two decades of underinvestment in the country's rail infrastructure, a policy consciously implemented by governing parties who were more inclined to favor road transport.
Read more
Article reserved for our subscribers

Germany's transport revolution is hampered by rail network's weaknesses
In the 2000s, Deutsche Bahn, which is wholly owned by the federal government and owns the infrastructure, pursued a strategy of international expansion, investing abroad rather than in the domestic network. As a result, signal failures, switching problems, overcrowded tracks, canceled services and malfunctioning carriages (air conditioning, toilets) are a daily occurrence for passengers. Not to mention the considerable delays on freight trains.
Headache
This comes as a necessary evil before the situation improves, say railway officials. Since 2020, the increase in delays can be explained by numerous works on the tracks, which are themselves related to an increase in public investment to modernize the network. In 2022, a record €13.6 billion was earmarked for this effort. When it took office at the end of 2021, the government said it would devote €62 billion to rail by 2030. At the end of last month, the government promised a further €45 billion envelope by 2027 which will be financed for the first time by an increase in tolls imposed on trucks.
You have 22.93% of this article left to read. The rest is for subscribers only.