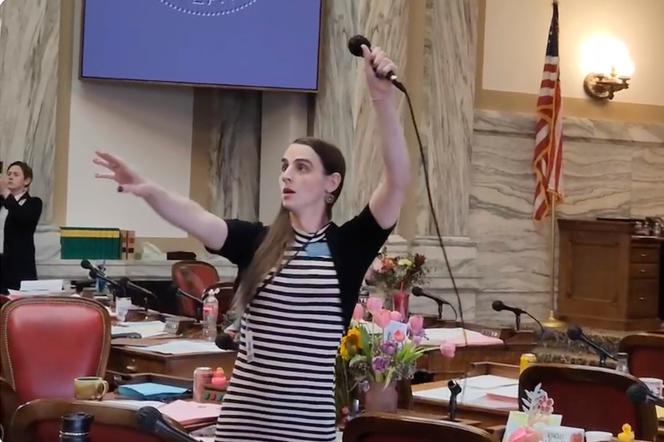 As Republican leaders in the Montana legislature doubled down on forbidding Representative Zooey Zephyr from participating in debate for a second week, her supporters interrupted proceedings in the House by chanting, "Let her speak!" Zephyr, a first-term Democrat from Missoula, had aimed to speak on a proposal that would have restricted when children could change the names and pronouns they use in school and required their parents' consent.
When lawmakers voted to continue subjecting Zephyr to a gag order, denying her the chance to speak, the gallery made up mostly of her supporters erupted, forcing legislative leaders to pause proceedings and clear the room.
The ordeal is the latest development in a three-day fight over Zephyr's remarks against lawmakers who support a ban on gender-affirming care. Zephyr, who is transgender and a first-term Democrat from Missoula, hasn't been allowed to speak on the statehouse floor since Thursday because she told her Republican colleagues last week they would have "blood on their hands" if they banned gender-affirming medical care for transgender youth.
Read more
Article reserved for our subscribers

American conservatives mount offensive against transgender people
Supporters were escorted from the gallery above the state House floor, including several by force. Leaders cut the sound on the video feed and Zephyr remained on the floor holding her microphone.
A legislation perceived as a matter of life and death
The display followed a promise Zephyr made earlier on Monday, when she defiantly told supporters on the statehouse steps that she planned to continue to speak forcefully against legislation that members of the transgender community, including herself, consider matters of life and death. "I was sent here to speak on behalf of my constituents and to speak on behalf of my community. It's the promise I made when I got elected and it's a promise that I will continue to keep every single day," Zephyr said before walking into the House chamber.
Read more
Article reserved for our subscribers

Parents reflect on raising transgender kids: 'The problem was me and getting rid of my prejudices'
Ban proponents see Zephyr's remarks as unprecedented and personal in nature. She and her supporters say they accurately illustrate the stakes of the legislation under discussion, arguing that restricting gender-affirming care endangers transgender youth, who many studies suggest suffer disproportionately from depression and suicidality.
The standoff is the latest example of emergent discussions around civility, decorum and how to discuss political issues many perceive as life and death.