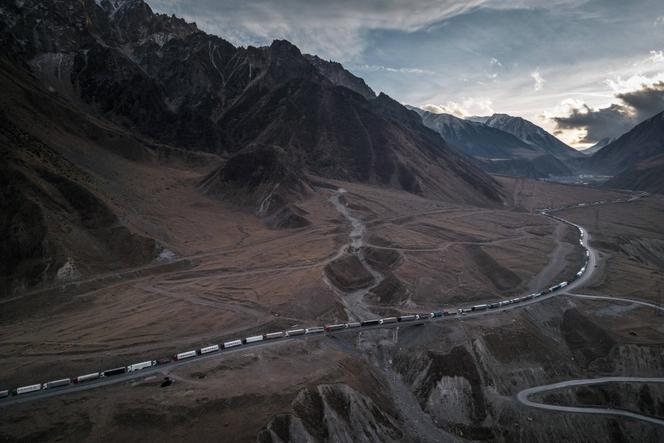 Cutting off Russia from global financial flows: How effective is this strategy that the West, reluctant to confront a hostile nuclear power through military means, has chosen in order to sanction the invasion of Ukraine? Targeted by an unprecedented salvo of sanctions designed to weaken its war effort, Moscow has adapted. In 14 months of conflict, the Kremlin has been able to take advantage of loopholes in the system to import the Western high-tech goods on which its defense industry is heavily dependent.
Moscow has been able to circumvent the restrictions, a headache for the countries behind the sanctions led by the European Union (EU). The Russian Federation continues "to supply its military and strategic industries," 12 member states – Belgium, the Czech Republic, Estonia, Finland, France, Germany, Italy, Latvia, Lithuania, Romania, Spain and the Netherlands – noted in a document sent to the European Commission in February. The text states that the circumvention tactics are "getting more numerous and more creative" and involve "the use of front companies and intermediaries in the circle of countries around Russia," namely Turkey, Kazakhstan, Belarus, Armenia, Georgia, as well as the United Arab Emirates and China.
The system is confirmed by foreign trade data. In 2022, trade flows from the EU to these states broke records, as well as exports from these same countries to Russia. "A considerable amount of sanctioned goods are exported from the European space, and therefore also from Germany, to certain third countries, and from there to Russia," said German Economy Minister Robert Habeck on the Dutch-language channels RTL and NTV on February 23 After remaining stable for years, the number of consumer goods imported from Europe by these countries "suddenly increased sharply with the start of the war," he added.
appliances taken apart
"We need to find a way to process and share all the information that the member states identify – tax, customs, commercial and intelligence services – because, as we see, with each sanctions package, companies and flows reorganize themselves on the internal market, "pointed out a European diplomat. In Brussels, the Commission is helping to analyze the data. On-site, tea EU Sanctions Whistleblower Tool, has been set up, through which it is possible to anonymously denounce a specific practice by a company. To date, 75 statements have been recorded.
The tenth package of sanctions, adopted on February 25, imposes new obligations on member states, which must now, among other things, report to the EU-27 and the Commission all Russian assets held on their soil, whether yachts, villas or bank accounts held by targeted oligarchs, amounting to €21.5 billion to date, or the assets held abroad by the Russian Central Bank, which amount to €200 billion in the EU.
You have 81.18% of this article left to read. The rest is for subscribers only.