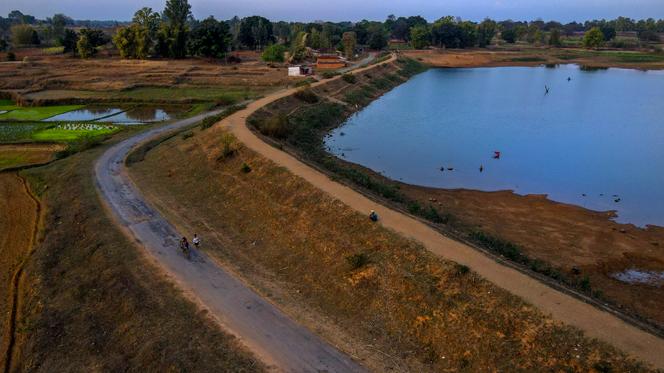 Ten police and their driver were killed in India's central Chhattisgarh state on Wednesday, April 26, when their vehicle hit an improvised explosive device, an attack police blamed on Maoist rebels. India's long-running Maoist insurgency began in the 1960s and has cost thousands of lives in the decades since, although violence has waned considerably in recent years.
Wednesday's deaths were the worst casualties for security forces in more than two years and claimed the lives of police reservists returning from a mission to investigate rebel movements in remote Dantewada district. "They were returning from an operation when the explosion took place targeting their vehicle," senior Chhattisgarh police official Vivekanand, who uses only one name, told AFP.
Footage aired on broadcaster NDTV showed a crater that stretched several feet into the earth, and security forces inspecting mangled vehicle parts strewn about by the blast. Chhattisgarh chief minister Bhupesh Baghel told reporters the attack was "very saddening" and pledged to redouble efforts to combat the state's Naxalites, as India's Maoist insurgents are known.
"My condolences to the bereaved families. This battle is in the last leg and we will not spare any naxalites, and we will make a proper plan to wipe out naxalism." No rebel group has claimed responsibility for the attack so far.
Read more
Article reserved for our subscribers

In India, the Bhima Koregaon case hinges on fabricated guilt
'Red Corridor'
India has deployed tens of thousands of forces to battle the rebels across the insurgent-dominated region known as the "Red Corridor", which stretches across several central, southern and eastern states.
Naxal groups say they are fighting for rural people and the poor. They are believed to be present in more than 10 states across India but are most active in remote parts of the country's interior. Their strongholds are in areas where much of the population remains mired in poverty and lacks access to critical services.
Delhi has also pumped millions of dollars into infrastructure development in the remote areas dominated by tribal communities, and claims to have confined the armed insurgency to 53 districts in 2020, down from 96 in 2010.
Twenty-two police and paramilitaries were killed in a gun battle with the far-left guerrillas in 2021. In March 2020, 17 police from a commando patrol were killed in an attack by more than 300 armed rebels in Chhattisgarh. Sixteen commandos were also killed in the western state of Maharashtra in a bomb attack that was blamed on the Maoists in the lead-up to India's election in 2019.
Read more
Article reserved for our subscribers

Hindu nationalists rewrite history through school textbooks