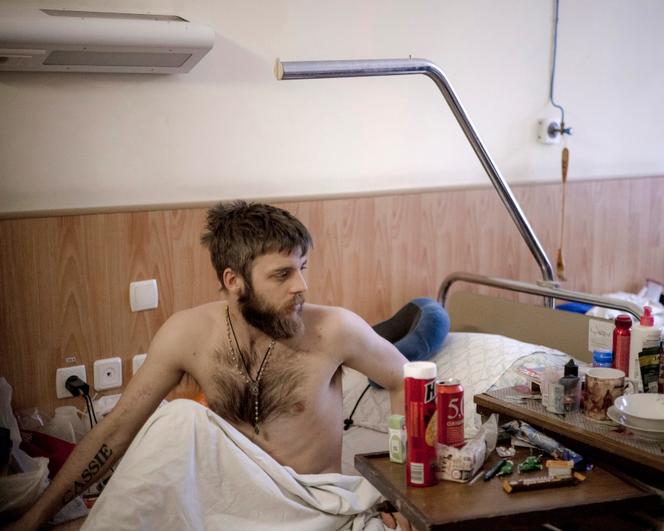 Pierre has just returned from the funeral of a fellow American soldier and is preparing for a new mission in the vicinity of Bakhmut, where he has been fighting for two months. "There are very few French people fighting here for the freedom of Ukraine and Europe. I must admit, I am disappointed," said the International Legion of Territorial Defense of Ukraine volunteer, sitting at a bar in Kramatorsk, in the Donbas.
Read more
Article reserved for our subscribers

War in Ukraine: The elite hackers fighting against Russian cyber attacks
The 30-something, who uses a pseudonym, enlisted in early March 2022 because he "has personal and friendly ties to Ukraine," a country he has been regularly visiting for more than a decade. According to several members of the legion, there are currently between 60 and 70 French volunteer fighters in Ukraine. This number is difficult to verify because most of the fighters refuse to contact the media and the International Legion command does not disclose its troop numbers.
At the start of the conflict, Pierre, a former civil servant, was one of the few French volunteers with military training, having undergone officer training in the army. "However, I had no prior experience of actual combat before coming to Ukraine," said the level-headed man who chooses his words carefully. When asked about foreign volunteers' motivation for joining Ukrainian soldiers on the frontline, he noted that "many are in search of adventure and adrenaline. It's an unconventional way of life that we're pursuing, but not in just any country. Ukraine is a cause that seems self-evident. It's easy to empathize with the victim. We're able to be of service to a people unjustly attacked."
'A very different military culture'
Being a polyglot (he speaks Spanish, English and Russian), Pierre is the leader of the French and Spanish-speaking section. "Many French people did not speak English at all, which meant they were turned away," he said. "Intercultural dialogue was not easy. Ukraine has a very different military culture than we do, and it's a bit tiring to bridge the gap between the two cultures."
In June, Pierre joined a reconnaissance unit and had his baptism of fire around Kharkiv, where he fought until December. After a training period, he returned to the front in February, in Bakhmut. He was given an FN Minimi light machine gun. He eagerly awaits the return of greenery after winter, which will make it easier to move around: "With the omnipresence of drones, our movements are visible to the enemy, making it very difficult to hide and surprise them. If we stay in one place , we are sure to be targeted by artillery."
You have 63.97% of this article left to read. The rest is for subscribers only.