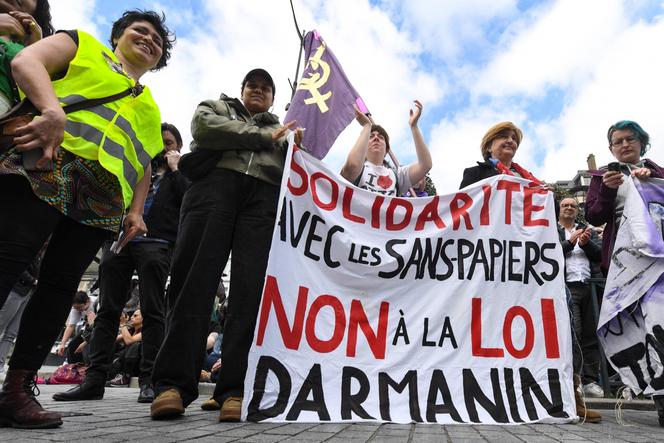 Thousands of people, including many undocumented migrants, marched in Paris and other French towns on Saturday, April 29, protesting against planned changes to the immigration law and evictions from the Indian Ocean island of Mayotte.
In the French capital, demonstrators marched behind a banner proclaiming "No to the Darmanin law. Against repression, imprisonment and deportations, for a welcoming migration policy," in a reference to Interior Minister Gerald Darmanin.
The immigration bill, which the government has just postponed until the autumn, "is a racist law, which aims to criminalize foreigners" and lead to "more deportations", said Aboubacar, 31, an undocumented Malian.
Read more
Article reserved for our subscribers

French government tentatively resumes work on paused immigration bill
"The problem is not immigration, it's exploitation and rogue bosses," added the post office sub-contractor who, with colleagues, has been fighting for 17 months to obtain his official documents to live and work in France.
The protesters also took aim at Operation Wuambushi (Take Back) being carried out by the authorities on the French Indian Ocean Island of Mayotte to send back illegal immigrants, most from neighboring Comoros, currently housed in unsanitary shanty towns.
Read more
Article reserved for our subscribers

The French government's deceptive promises behind shantytown evictions in Mayotte
"The way undocumented Comorans are treated is unworthy of a country like France," said Marie-Christine Vergiat, vice president of the French Human Rights League and a former member of the European parliament.
The Darmanin bill and the operation in Mayotte are linked, Said Mhamadi, a Comoran civil leader, said in the southern port city of Marseille, where up to 300 people demonstrated.
The controversial bill, entitled "Controlling immigration while improving integration," is aimed, among other things, at providing greater scope for deportation, especially for foreigners who commit crimes.
It also stipulates a minimum level of French be required before a multi-year residence permit is granted and allows for mandatory fingerprinting as well as tightening requirements for the renewal of long-term permits.
Newsletter
THE WORLD IN FRENCH
Every morning, a selection of articles from The World In French straight to your inbox
Sign-up
In the northwestern city of Rennes, over 1,500 people took to the streets chanting "down with the police state".