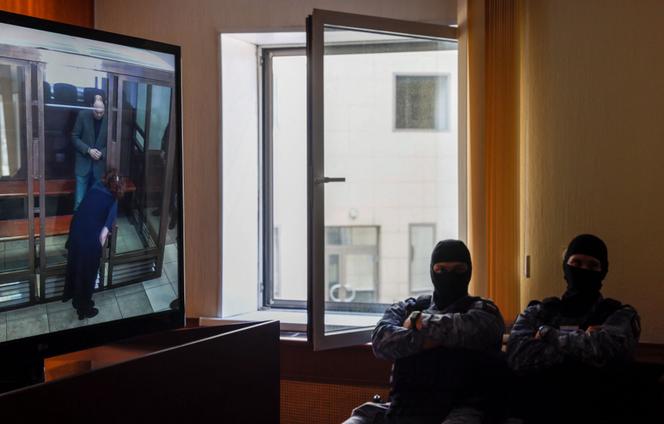 The trial of Russian opposition politician Vladimir Kara-Murza ended on Monday, April 17, with a sentence of 25 years in prison. It was held behind closed doors – a classic procedure in cases of espionage or treason, which is supposed to allow the examination of secret documents. Except that during the four weeks of hearings, the prosecution did not present any, simply citing three public speeches by Kara-Murza. The speeches delivered in Lisbon, Helsinki and Washington described Russia's "state terror", rigging of elections, human rights violations and invasion of Ukraine. He concluded them by asking Western capitals to impose sanctions on the Russian leaders.
The prosecutor and the judges of the Moscow city court saw these words as "threats to the external security and territorial integrity" of Russia. As a result, Kara-Murza, 41 and a father of three, was sentenced to 18 years in prison for "high treason," seven years for "disseminating false information about the work of the military" and three years for participation in an " undesirable organization." Because the law limits the total length of cumulative sentences, the final verdict was 25 years in a brutal prison camp.
These legalistic formulations pale in the face of the grim reality of the sentence. Since surviving two poisonings in 2015 and 2017, Kara-Murza has been in poor health, forced to use a cane to walk. The result is effectively a death sentence. His lawyers' request to suspend the prison sentence because of his poor health (he suffers from polyneuropathy and neuromuscular pathologies) is unlikely to be heard, nor is their planned appeal, despite the law explicitly citing these illnesses as incompatible with prison.
'He is an enemy of the state'
The sentencing did not prevent Kara-Murza from showing optimism. "Russia will be free, tell it to the world," he said to his lawyers a few seconds before he was pulled from the cage where he had watched his trial. In his last words in court on April 10, Kara-Murza delivered a form of political testament, saying only that he regretted failing to convince his fellow citizens of the "dangerous nature" of Vladimir Putin's regime. "But I know that a day will come when the darkness that reigns over our country will fade," he added.
Even though it was expected, this extremely harsh sentence caused much emotion among supporters of what was once the Russian opposition, and in Western capitals. Some pointed out the verdict contrasted with much more lenient sentences for ferocious murderers. But there was another comparison drawn from the history books: sentences of 25 years in prison camps are reminiscent of the days of the Stalinist repression at its harshest. The parallel is particularly striking because two of Kara-Murza's great-grandfathers were shot in the 1930s and one of his grandfathers was sent to a gulag.
You have 59.77% of this article left to read. The rest is for subscribers only.