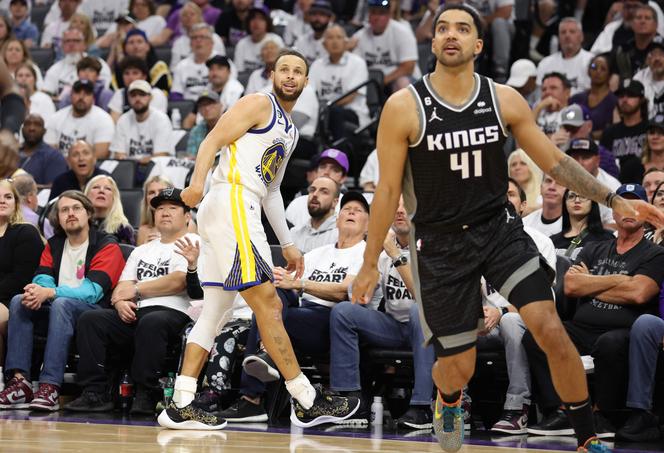 Stephen Curry scored 50 points in a record-shattering performance Sunday, April 30, to send the defending champion Golden State Warriors into the second round of the NBA playoffs while a Jimmy Butler ankle injury raised tensions for the triumphant Miami Heat.
Curry, a four-time NBA champion and two-time NBA Most Valuable Player, was nearly unstoppable as the Warriors won 120-100 at Sacramento to capture their best-of-seven Western Conference series 4-3. "I just wanted to come out and look for shots early, get my teammates going throughout the game," Curry said. "But when I'm looking for shots, it usually works in our favor."
The 35-year-old guard delivered an incredible performance, hitting 20 of a career-high 38 shot attempts and going 7-of-18 from 3-point range and 3-of-5 from the free-throw line. He also added eight rebounds and six assists.
Curry's 50 points were a career playoff high and the most points in any NBA game seven – breaking the old mark of 48 set by Kevin Durant for Brooklyn in a 2021 loss to Milwaukee.
Read more
NBA Playoffs: The Philadelphia 76ers sweep the Brooklyn Nets to advance to the second round
The Warriors next will face LeBron James and the Los Angeles Lakers in a Western Conference semi-final matchup that starts on Tuesday. "They are playing unbelievable," Curry said. "All their pieces fit so it's going to be a huge test for us. "Thank God we get to worry about that because these last 36 hours were a little dicey," added Curry, whose Warriors missed a chance to close out the Kings in game six.
Butler's injured ankle
In Sunday's other playoff contest, Butler scored 25 points and grabbed 11 rebounds to lead Miami over the host New York Knicks 108-101 in their Eastern Conference second-round opener but suffered a right ankle injury.
The series continues Tuesday at New York but Butler's status will steal the spotlight until then. "No idea," Heat coach Erik Spoelstra said. "You just don't know with ankle sprains. I don't even know if we will know more by tomorrow. We'll just have to wait and see. It will be a waiting game." Asked how the ankle felt, Butler said, "Like a rolled ankle."
Read more
LeBron James becomes the all-time leading scorer in NBA history