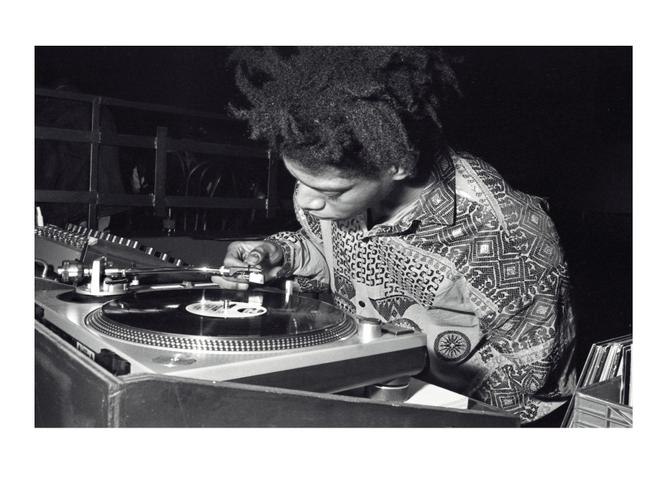 Thirty-five years after his death, when at 27 he joined the club of several famous rockstars who died at the same age – also by overdose in his case – Jean-Michel Basquiat is a big enough name to be showcased in non-monographic exhibitions . After being curiously paired with Egon Schiele in 2019, his work is back at the Fondation Louis Vuitton, which is showing his collaborative work with Andy Warhol until August 28.
The event will be complemented, until July 30 at the Philharmonie de Paris, by an exploration of his intense connection to music entitled "Basquiat Soundtracks." This title in English – which is ambiguous insofar as it could imply that the artist and musician had composed for the cinema – was preferred over the one chosen by the Montreal Museum of Fine Arts in the fall of 2022, "A plein volume: Basquiat et la musique," clearly deemed too French. What is clear is that this is the "soundtrack" of his short life, which is accompanied by a hefty playlist of a hundred or so tracks mixed by software along the multimedia tour.
Read more
Article reserved for our subscribers

Basquiat and Warhol, two soloists duetting at the Fondation Louis Vuitton
Music played a central role in Basquiat's life and work, with visitors to his Great Jones Street loft in Lower Manhattan never finding him to be silent. During his life, the Caribbean-born New Yorker assembled a collection of more than 3,000 vinyl records, ranging from Ravel's Bolerowhich he was known to play on repeat, to the latest in rap music – "I listen to everything," he said.
This love of music was not limited to passive consumption, and his father, Gérard, who introduced him to jazz, recalled that, from an early age, "the ear would be listening to music and the hand would be making art." This is on display right from the outset of the exhibition, with the masterful painting Anybody Speaking Words (1982), a depiction of a human song belting out the word "Opera" three times with a drawing reminiscent of the painter's discovery of the medical textbook Gray's Anatomy.
Second only to the violinist Paul Klee – who is not mentioned in the exhibition – Basquiat is perhaps the artist who has most powerfully combined the two arts: to do so, he rhythmically punctuates his work with musical signs, instruments, notes, keys and staves, words and lyrics repeated as they might be in choruses, onomatopoeia…While adopting Burroughs' cut up technique, his technique also fits into the hip-hop revolution, scratching it up like a DJ and using photocopying like a sampler.
Graphic explosion of hip-hop
It was with spray paint on the streets of Lower Manhattan that Basquiat made his first public expression in 1977, under his superhero pseudonym, SAMO (same old shit). The graphic explosion of the budding hip-hop scene captivated him and he teamed up with graffiti artists Fab 5 Freddy, Toxic and Rammellzee, producing the track beat bop, a "battle" with K-Rob, in 1983. But this was not enough to contain the curiosity, the hunger and imagination of a creator inspired by and belonging to the Warholian spirit of interdisciplinarity.
You have 43.02% of this article left to read. The rest is for subscribers only.